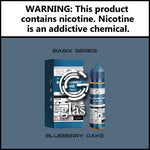 Glas Basix Series is a comprehensive selection of unique dessert flavors perfectly crafted with precision and attention to detail. The Basix collection of gourmet e-liquids comes with exceptional flavor profiles to choose from. They will give you fully captivating vape experience. All of the flavors have full of flavors and feel light enough to enjoy vaping all day long.
Butterscotch Reserve by Glas Basix Series 60ml
Butterscotch Reserve vape juice comes with the most complimentary tobacco blends you can get on your hands. Tobacco complements very well with sweet and rich flavors. Butterscotch Reserve adds a right amount of caramel with butterscotch flavor.
Pebbles (PBLS) by Glas Basix Series 60ml
Want to enjoy vaping the award-winning classic flavor? Why don't you buy Pebbles (PBLS) by Glas Basix Series 60ml! You'll enjoy the sophisticated dessert combination of fruity flavored cereal, rich sweet cream and delicious French macarons. It will be your all time favorite for sure and will make you come back for more.
You will have the nostalgia of fruity, sugary cereal pebbles from your childhood days. In short and simple words, Pebbles (PBLS) by Glas Basix Series 60ml is the perfect cereal flavored vape juice to enjoy all day long. This dessert blend has the perfect balance of fruit and creamy flavor with a sweet flavored vanilla crisp.
Blueberry Cake by Glas Basix Series 60ml
On the inhale of Blueberry Cake by Glas Basix Series 60ml, you will feel you're stepping inside the grandmother's kitchen. It will give you a feeling like she's pulling a tasty cake out of the oven. Blueberry Cake vape juice tastes like a moist vanilla cake covered with rich frost of butter cream and lots of succulent, fresh blueberries drizzled with a sugary coat.
Mango Tango by Glas Basix Series 60ml
Mango Tango vape juice is the tropical masterpiece that features succulent mango flavors and a unique touch of juicy pineapple. It comes with the infused note of black currant unifying the overall vaping experience. This vape juice has everything you really love and is available in all day vape.
You'll enjoy inhaling the tropical combo of mango and refreshing sour pineapple. It has wickedly nectar of deliciousness and sugary fruit blend. No wonder this flavor seems irresistible to every kind of vaping enthusiast.
Cool Melon by Glas Basix Series 60ml
Cool Melon vape juice combines the crispy melons with the sweet flavored cantaloupe and a refreshing taste of cucumber. It has the light menthol finish which complements this flavor effortlessly. This flavor will leave your senses refreshed throughout vaping.
Bottom Line –
Want to vape any of these above discussed flavors from Glas Basix Series 60ml! Whatever your vaping experiences, you'll get your favorite from Ejuice Store. For more information, please visit our website at
https://www.ejuicestore.com/
and you'll get refreshing all-day vape that you'll enjoy vaping again and again.