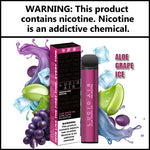 Over a decade, Lucid Air Disposable Pod has been on the top of the vaping industry. They specialize in providing finely crafted, premium quality vape juices and have garnered excellent reputation amongst vaping enthusiasts of every kind. 
The Lucid Air Disposable pod device is a unique, easy to sue device and comes with superior quality, flavorful vape juice. This vaping device is of light weight and is quite easy to carry. The Lucid Air disposable vape delivers fully satisfying hits combined with refreshing throat hit that you crave for every time you vape. 
Every Lucid Air disposable pod is well-equipped with a 16ml e-juice tank and superior quality battery to power up the device. The tank and battery are combined together to allow every Lucid Air Disposable device to deliver around 5,000 puffs per every unit, making it one of the longest lasting devices available. 
The Lucid Air disposable vapes are pre-set to deliver optimal performance. So, there are absolutely no settings for you to fiddle around. However, battery output, coil resistance and vape liquid formulation are finely tuned to deliver flawless performance; so all you have to do is to draw on the device. It will provide you with a remarkable hit every time. 
When the device stops working, you need to throw it away and start using a new one. If you're looking for a fully satisfying and smooth vaping experience in a straightforward and easy to use device, you should choose no other than the Lucid Air disposable pod flavor. 
This flavor takes in the sweet taste of vine ripened grapes and the refreshing smoothness of aloe. This refreshing flavor comes with a cool menthol finish for a truly exhilarating experience. 
Banana Ice 
Banana Ice Disposable Pod (5000 Puffs) by Lucid Air has the ripe, sweet bananas along with the cool menthol for a crispy as well as refreshing experience. 
Honeydew Ice 
The Honeydew Ice disposable pod combines the sweet, juicy honeydew melons and the blast of cool menthol to give you a rejuvenating experience on the exhale. It will make you come back for more again and again. 
Strawberry Ice 
The Lucid Air Strawberry Ice disposable has the sweet, mountain fresh strawberries blended along with refreshing menthol to enliven your taste buds like no other. 
The juicy, sweet flavored watermelon combines with the cool menthol, making it a delicious, refreshing all-day vape that will amaze your taste buds to the fullest. 
Bottom Line –
If you want to buy any of these Lucid Air disposable pods, you should look no further than Ejuice Store. Start shopping today and take advantage of our amazing deals and special offers.