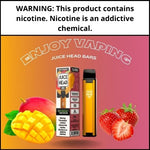 Juice Head Bars bring you a brand new range of disposable vape pods with delectable blends of vape juice range to choose from. With delicious flavors, you can go for classics or some unique combinations developed specifically for disposable devices. 
The disposable vape pods by Juice Head Bars allow you to take advantage of premium flavors in a more convenient and portable way. Whatever flavorful disposable device you buy will easily fit in your pocket or bar. These pods are ideal for a fuss-free, mess-free way of vaping on the go. 
Available in 9 flavors, every pod from Juice Head Bars contains 8ml of salt nicotine e-liquid and will provide you with a smooth vaping experience. In addition, every pod has a nicotine strength of 2% and 5% and an average lifespan of around 3000 puffs. This means this disposable pod is well-worth use, especially if you want to vape any Juice Head Bars disposable pod flavor again and again. 
Every Juice Head Bars disposable pod flavor is usable out of the box. Hence, no complicated setup, mess, or know-how is needed to vape this disposable pod device. Instead, you need to inhale on the device to activate it and start using it immediately. All disposable pods by Juice Head Bars are ideal for beginners and experienced vaping enthusiasts alike. They will provide you with a mouth-to-lung vaping experience consistently. 
With nine exceptionally crafted flavors to choose from, you will find something developed especially for you and your taste buds. So, what about taking the Mango Strawberry disposable pod by Juice Head Bars! You will take a flavorful expedition towards a paradise through the tropical delight of the Mango Strawberry Juice Head Bars disposable pod. 
This disposable pod gives you a syrupy-sweet flavor by casting a golden ray of sunlight onto the illustrious mango, well-known for its juicy golden flavor. This flavor combines the tanginess of crushed strawberry base to create a well-balanced fusion of fruity goodness. 
Powered by a 650mAh battery, this disposable pod contains 8ml of synthetic nicotine vape liquid, delivering up to 3000 flavorful puffs. You should choose this uniquely crafted flavor profile that combines the golden mango flavor and the vibrant strawberry fruity delight. In addition, it contains a mesh coil heating element that helps produce the optimal amount of vapor and flavors. 
Significant Features of the Mango Strawberry Disposable Pod 
Disposable vape by Juice Head Bars 

Available in a 20mg (2%) and 50mg (5%) nicotine strength 

Made with synthetic nicotine 

Containing 8ml e-liquid 

Offering approximate 3K puffs

Flavor profile – mango and strawberry 
Bottom Line –
Are you in search of a premium online vape store? If yes, then you should look no further than Ejuice Store. Whether you want to shop for Mango Strawberry disposable pod or any flavored vape juice by the Juice Head Bars, Ejuice Store will cover your vaping needs. For more information about our exciting deals and special offers, please visit our website at 
https://www.ejuicestore.com/
.