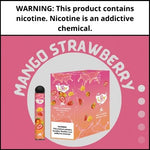 The Juice Head Bars is a premier name in the vaping industry, providing quality vaping devices with industry-standard disposable designs. The disposable pod comes with a compact and portable design creating an extraordinarily convenient and effortless experience. Apart from its compact design, the disposable pod comes with an integrated 650mAh capacity battery and 8ml vape juice capacity. You can expect around 3000 puffs per device. In addition, the Juice Head Bars come with a fascinating collection of tasty flavors to choose from, giving you to choose from flavorsome options that you will love to add to your all-day-vape collection.
The Juice Head Bars disposable pod provides a visually appealing appearance. That's why the disposable pod brand is considered as one of the most desirable devices hitting the vaping industry with the most extraordinary flavors. The main features of the Juice Head Bars disposable pod include excellent taste and convenience as well as easy-to-use operation. You can expect outstanding performance, three thousand puffs, and the most flavorful delights while vaping one of the best flavored disposable pods by the Juice Head Bars.  
The vaping experts at the Juice Head Bars specialize in creating delicious flavors to appeal to vaping enthusiasts of every kind. In addition, they strive to develop new products like disposable vapes. That's why the Juice Head Bars disposable pod makes a flavorful addition to the growing collection of vape juices. You will find the device performance-driven, convenient, and able to enjoy its extraordinarily created flavors to the fullest.
When shopping for the best disposable pod flavor, you should look no further than Mango Strawberry Disposable Pod by the Juice Head Bars. It will leave you in unbelievable delight from the first puff to the last. You will find nothing more pleasurable than this wonderfully created concoction.
The Juice Head Bars disposable pod combines strawberries' tropical mango flavor and juiciness. While vaping this disposable pod, you will feel like having the freshest and most authentic flavors that are second to none. A perfect duo of ripe strawberry and tropical mango flavor will take your vape taste buds on a flavorful voyage.
So, what are you waiting for? Please shop for the Mango Strawberry Disposable Pod by the Juice Head Bars from Ejuice Store – a one-stop-destination for all your vaping needs. Apart from this flavor, you can check out the Juice Head Bars disposable pod flavors and make the right purchase to add to your all-day-vape arsenal.
In addition, you will take advantage of exciting deals and special offers available at your Ejuice Store. So, shop for your favorite Juice Head Bars disposable pod right now. You will never get disappointed after vaping, for sure.