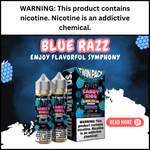 Do you want to embark on a flavorful journey like no other? If yes, then why don't you consider vaping Blue Razz by Candy King Bubblegum Collection? This Candy King vape juice comes with a tantalizing concoction combining the sweetness of blueberries and raspberries with the timeless allure of bubblegum.
This twin pack features two 60ml bottles, which stands out as a testament to Candy King's perfection in crafting e-liquids that redefine the vaping experience. Please check out the delicious details of this vape juice:
The Perfect Blend of Vape Flavors -
Blue Razz has set the benchmark for Candy King's dedication to creating an all-day vape that goes beyond the expectations of vaping enthusiasts. The inhale of this ejuice tantalizes your taste buds with the succulent essence of sweet blueberries. This sweetness is complemented by the tartness of the ripe raspberries. This Candy King vape juice offers a symphony of flavors that will leave you with a mouth-watering burst like a cascading waterfall.
Experience the Exhale -
When you exhale, Blue Razz unfolds another layer of its complexity. The blend of sour candy and bubblegum flavor takes charge over your taste buds which is perfectly complemented by the sweetness and fruity notes from the inhale. The combination of juicy bubblegum and poppin' blue razz makes a delightful dance on your palate while providing you with a harmonious balance of tart satisfaction and sugary bliss.
Why Choose Blue Razz?
All-Day Vape Excellence –
Blue Razz is exceptionally crafted for those seeking an e-liquid to enjoy throughout the day. The carefully balanced flavors make it a refreshing and satisfying alternative for vapers who appreciate variety in their vaping experience.
Mouthwatering Inhale –
The inhale experience allows you to enjoy a burst of sweetness and tartness as well as a delightful fusion of blueberries and raspberries. These flavors will set the stage for the flavorful spectacle that follows.
Exquisite Exhale –
The exhale is where Blue Razz vape juice truly shines. It introduces your taste buds with the sour candy and bubblegum flavors that will take the vaping experience to a whole-new level. As a result, you will enjoy a lingering taste that will keep you coming back for more.
Final Conclusion -
Blue Razz by Candy King Bubblegum Collection makes a flavorful masterpiece that reflects the brand's commitment to innovation and quality. Whether you love sweet fruits, tangy berries, or the classic bubblegum charm, you should shop for Blue Razz by Candy King Bubblegum Collection from Ejuice Store.
Indulge yourself in the perfect balance of Blue Razz, where every puff gives you a symphony of taste that will leave you craving for more. Improve your vaping experience with Candy King's Blue Razz—known as a true gem in the world of e-liquids.