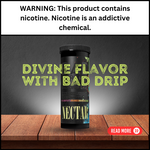 If you're a vaping enthusiast or just looking to explore new and exciting e-liquid flavors, you're in for a treat. Bad Drip, a renowned name in the vaping world, brings you a range of delectable e-liquids that are sure to satisfy your taste buds. In this blog, we'll take a closer look at some of their standout creations, each offering a unique and rapturous vaping experience.
God Nectar by Bad Drip is a tropical fruit medley that will transport your taste buds to paradise. This 60ml vape juice features a harmonious blend of four exquisite fruits, creating a divine vaping experience.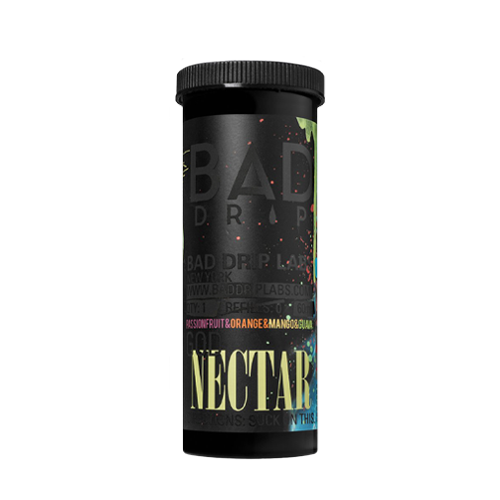 Flavor Profile:
Inhale: The sweet and citrusy notes of orange and guava.
Exhale: A heavenly fusion of passion fruit and mango.
God Nectar truly lives up to its name, offering a taste that's worthy of the gods. If you seek a vape juice that's both sweet and tropical, this one is a must-try.
Don't Care Bear by Bad Drip 60ml
Don't Care Bear by Bad Drip introduces a burst of fruity delight in the form of sweet gummy bears. This 60ml e-liquid perfectly balances a trio of fruit flavors with a punch of gummy sweetness on the exhale.
Flavor Profile:
Inhale: A fruity trio that's balanced and full of flavor.
Exhale: A satisfying gummy bear sweetness.
With its mix of fruitiness and gummy goodness, Don't Care Bear is a treat for vapers who crave a blend of fruity and candy-like flavors.
Farley's Gnarly Sauce by Bad Drip 60ml
Farley's Gnarly Sauce by Bad Drip is a radical concoction that combines the goodness of strawberries, kiwis, and bubble gum. This e-liquid promises an exhilarating journey of fruit and gum flavors.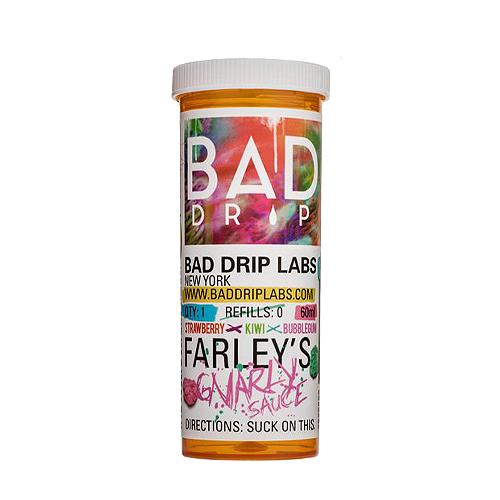 Flavor Profile:
Inhale: A delightful fusion of strawberries and kiwis.
Exhale: A hint of smooth bubble gum finish.
If you're a fan of fruit and gum pairings, Farley's Gnarly Sauce is the way to go. The unique combination of strawberry, kiwi, and bubble gum creates an unforgettable vaping experience.
Bad Apple by Bad Drip is designed for those who adore the crisp, sweet taste of apples. This 60ml e-liquid captures the essence of both red and green apples, offering a refreshingly fruity experience.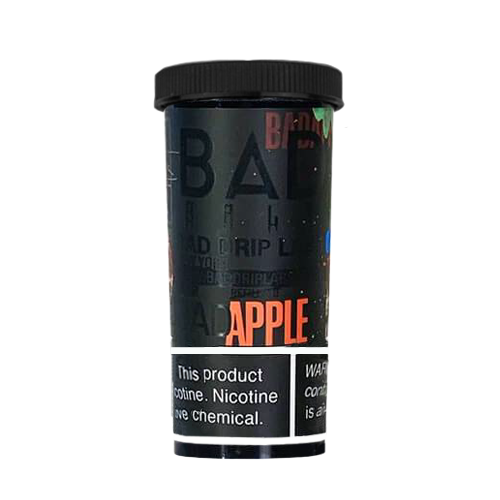 Flavor Profile:
Inhale: The bite of a ripe sweet red apple.
Exhale: A touch of green apple sweetness with an extra kick.
For apple enthusiasts, Bad Apple is a dream come true. It's the perfect e-liquid for those who want the taste of freshly picked apples in every puff.
Bad Drip's commitment to creating unique and high-quality e-liquids shines through in these flavors. Whether you're looking for a tropical escape, fruity candy, a fusion of fruit and gum, or a pure apple delight, Bad Drip has you covered. Explore these exquisite e-liquids and let your taste buds embark on a flavorful journey with every inhale and exhale.
Pick your favorite Bad Drip flavor and elevate your vaping experience today!