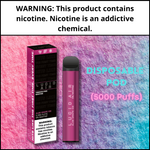 You can discover a number of alternatives to conventional smoking today that include hookah, e-cigs, vape and many more. With the increasing demand of vaping and vaping products and the craze for online purchases has made online vape shops popular. However, finding the best online vape shop can be a challenging affair. With so many sellers selling vape juice, and other vape products online, confusion among customers is apparent. 
So if you are looking for a genuine online vape shop to buy some of the best disposable pods with icy mint flavor, then look no further and choose us, E Juice Store. We carry some of the best icy mint flavored disposable pods from top manufacturers that include Lucid Air, Cali Bars 2K and many more. Let us take a look at a few below:
Lucid Air Disposable Pods
Lucid Air disposable  pod is known to offer the longest lasting vaping experience today on the market. This incredible disposable pod can provide up to 5000 puffs, making you assured that you can enjoy till you are fully satisfied. Besides that Lucid Air has come up with 12 unique, bold and delectable disposable pod flavors that will make you a fan of the brand. Equipped with mesh coil technology, and juice made with tobacco-free nicotine, Lucid Air disposable pods offer you the cleanest flavors available.
The incredible flavors from the house of Lucid Air
Apart from Lucid Air disposable pods we also carry the following icy mint flavored devices:
Cali Bars 2K Sweet Mint is a flavorsome disposable pod that will drive your taste buds wild. The pod is specifically designed keeping all of the menthol lovers of this world in mind. Hence, they combine the taste of mint with menthol leaving you feeling as if you are breathing ice.
LOY Iced Pineapple is another pineapple flavored pod that is complemented by arctic icy mint. On the inhale you get a fresh pineapple flavor along with splashes of pina colada tropical undertones with a rejuvenating menthol finish.
You can browse our website to discover more such delicious flavors. Our online vape shop also offers discounts and Flash Sales... So keep browsing to grab the best deal on your favorite vape flavor.