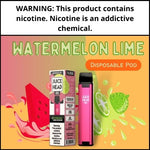 Welcome to the leading dealer of ejuices, disposable pods, and others. If you were in search of an interesting flavor to try then you are at the right place. Our store sells unique flavors and high-quality products. We are in this line for a very long time and are a very rapidly growing online store. Choose Ejuice Store for authentic quality products. The quality we serve is unmatchable, you won't find such quality anywhere else. Our customer service is the best, we are available to address your queries. You are at the best store. Shop amazing ejuices, disposable pods, and salt nics. 
Ejuice Store is delighted to offer its unique flavor of the disposable pod, 'Watermelon Lime Disposable Pod'. Get the experience of watermelon with a touch of lime. We are very sure that you will like the combination a lot.  
Shop Watermelon Lime Disposable Pod: Try out a very different flavor this time. You will be experiencing a crisp watermelon taste along with a twist of sweet lime. Isn't the blending unique? This disposable pod has a very long-lasting experience on the market. This includes about 5,000 puffs. You will be experiencing zesty and sweet flavors with every hit. You will be lost in this disposable pod too much. 
The product has amazing features like the Mesh coil technology, rechargeable feature, 5,000 puffs approximately in every device, and 2.0% & 5% nicotine strength. This has a 14ml capacity. 
Watermelon & lime being the primary flavors is sure to win your heart. This disposable pod is from the well-known brand Juice Head 5K. The nicotine levels are 50 mg and 20 mg. The VG/PG ratio is 50/50. The manufacturer of this disposable pod is Streamline Vape Co. 
Get ready for a perfectly sweet taste. 
The available flavors include Watermelon Lime, Watermelon Strawberry, Fresh Mint, Peach Pear, Lychee Mango, Pineapple Lemon Lime, Raspberry Lemonade, Strawberry Peach, and Pineapple Grapefruit. 
We assure you of the exact product promised. For us, your satisfaction matters. We have been providing only the best products for so long for which we are the most chosen store for vape product buying. 
We promise a smooth buying experience. In case of any queries, our customer support team is always there to address you. 
We sell top brands of products. We have a wide collection of items. Every product in our store is a must to try. Do not worry, we won't disappoint you. You will be having a great disposable pod try. We have many more flavors and brands of disposable pods to try. You can take a look at them. 
Why Choose Ejuice Store? 
High-quality products

Competitive price

Friendly & experienced customer service

Quick shipping & delivery

Wide range of options available
So, what are you looking for? Place your order soon and try this amazing watermelon lime disposable pod without more delay.