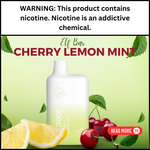 Are you into vaping? If yes, then you should step into the world of tantalizing flavor fusion with the Cherry Lemon Mint disposable vape (5000 puffs) by Elf Bar BC5000. This refreshing vape blend combines the sweetness of ripe cherries, the zesty twist of lemons, and the cool freshness of mint. Get ready to enjoy an invigorating vaping experience like no other. Please take a look at this blog and know why this flavorful blend is a must for all vaping enthusiasts.
A Flavorful Trifecta for Wonderful Vaping –
The Cherry Lemon Mint disposable vape by Elf Bar BC5000 is a carefully crafted vape blend that captures the essence of freshly picked cherries, juicy lemons, and invigorating mint. Every flavor in this disposable vape has its unique share in creating a harmonious trifecta of flavors:
Sweet Cherries –
The key ingredient of this exquisite blend is the cherry flavor which offers a flavorful burst of natural sweetness with a hint of tartness. While vaping, it feels like indulging in a bowl of freshly plucked cherries. You will enjoy refreshing juiciness that sets the stage for the overall vaping experience.
Zesty Lemons –
Complementing the cherry flavor, the lemon adds tanginess and a citrusy twist to this vape blend. This lively and invigorating note brightens the overall flavor profile while adding a fruity burst of freshness that boosts your vaping experience.
Refreshing Mint –
The mint completes the trio while adding a cool and revitalizing sensation. It brings crispness to the vape blend and offers a clean and refreshing finish that leaves you feeling invigorated with every puff.
Embrace the Smoothness & Consistency in Vaping Experience
The Elf Bar BC5000 device improves the flavor profile of the Cherry Lemon Mint fusion with its advanced technology. This cutting-edge vape device makes sure that every puff feels smooth and consistent. Hence, it will allow you to experience the full range of cherry, lemon, and mint flavors to shine through. Included a rechargeable 650mAh integrated battery and 13ml of pre-filled e-liquid in the BC5000, the disposable pod will take you on an extended vaping journey while offering a convenient and satisfying vaping experience.
Unleash the Magic of Cherry Lemon Mint Flavor
You should immerse yourself in the world of flavorful and refreshing flavors with Cherry Lemon Mint Disposable Vape (5000 Puffs) by Elf Bar BC5000. This extraordinary blend of cherries, lemons, and mint will awaken your senses and take your vaping experience to a whole-new level. Available with a perfectly-rounded and satisfying flavor combination, you'll want to reach out to this disposable pod time and time again.
Discover the convenience and vaping pleasure of the Cherry Lemon Mint Disposable Vape (5000 Puffs) by Elf Bar BC5000 today. Whether you're an experienced vaping enthusiast or just starting your vaping journey, this flavor will delight your taste buds and leave you craving more. Give it a try and enjoy a truly delightful and unforgettable vaping experience with Elf Bar BC5000.
Final Conclusion -
When you want to indulge in the enchantment of Cherry Lemon Mint Disposable Vape (5000 Puffs) by Elf Bar BC5000, you should grab your bottle right now from Ejuice Store. Start your vaping journey with a delectable symphony of flavorful blends. You should treat yourself to this extraordinary flavor fusion and savor the convenience of the Elf Bar. Get ready to enjoy vaping yourself and make it ELF Bar with the Cherry Lemon Mint flavor!