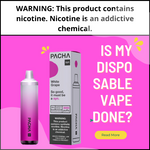 If you are new to the vaping scene, you can consider employing the disposable variety. There're innumerable advantages of using disposable vapes, and a lot of them apply to new vapers. 
As a new vaper, you also want to understand the working principle of these devices. It always makes sense to be in-the-know before using for the first time, and that encompasses hopping onto the vape pod disposables craze. 
The most common question vapers used to ask is "how do you know when a disposable vape is done?" As the name says, a disposable vape can only be used for a specific time duration. You need to know when it's void, when the battery has come to end, and then you eventually discard it. Listed below are a few tips to find out whether your vape is void, or if it's finished. 
The vapor from your pod has a burnt taste:
If you observe that your e-cigar has a burnt & charred taste, then you have to understand that your device is out of juice. Your battery power may still be on, but it's out of vape-juice, which entails that your atomizer still gets hot. However, the juice has run out, making the wick to absorb the heat. This heat directly burns the cotton wick, presenting you a horrid taste indicating that you've to purchase new vape. 
The vapour becomes thin & flavourless after using the pod for a long time:
Your vape juice us running dry when you see the vape is thin and the vapour is tasteless. To put it another way, your puffs aren't that filing any longer. You've to purchase a new pod when this occurs, because inhaling smoke from the wick can be hazardous. 
The pod doesn't create vapor, even when it & the battery gets hot:
When your e-cig is out of juice, you mayn't feel a burnt taste when vaping, especially when its wick is made from metal mesh or else coil. What you'll notice, on the contrary, is a nasty metallic flavor. You are not expected to sense anything, until its component fall short to function. 
Looking to invest on a new disposable pod? Check out
Blue Razz Ice Disposable Pod (3000 Puffs) by Pachamama
for a taste like you have never experienced before. You can avail this 8ml capacity disposable device in eight unique & pleasant flavours, each featuring the taste-enhancing benefits of synthetic nicotine & fast heating. Visit ejuicestore.com – the best
Online Vape Store
to place your order for this amazingly unique disposable pod.