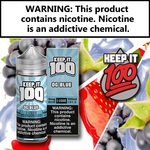 Keep It 100 is one of the best selling vape juice brands in the industry. Among all flavors, OG Blue and OG Blue Tropical are the popular vape juice products. If you're looking for all-day vaping experience, you should look no further than OG Blue (Blue Slushie) by Keep It.
Buying Keep It 100 OG Blue E-Liquid –
Keep It 100 OG Blue E-Liquid comes with tartness and tanginess of blue raspberries along with sweet flavored strawberries. It feels like a yummy blend of fruity flavors that will keep your day kicking like no other. OG Blue is other wisely known as Blue Slushie, giving you a delicious combination of sweet blue raspberry and ripe strawberry. It will give you the right kick which is second to none.
On the inhale, get ready to enjoy the blue raspberry and strawberry that make the way around your taste buds and vape palate. When you exhale, the juicy flavors of the vape juice intensify and bring you the ultimate sensational fruity goodness.
OG Blue vape juice from Keep It 100 E-Liquid is available in a large size gorilla bottle. This e-juice comes with 70 percent vegetable glycerin (VG) and 30 percent propylene glycol (PG) base. It has the ability to create impressive large and thick clouds of vape during every session.
Whether you're looking for a perfect way to beat the summer heat or need a succulent or satisfying vaping sensation, you can never go wrong with Keep It 100 OG Blue E-Liquid. You'll be delighted that you've made the good decision.
Keep It 100 OG Blue formerly known as Blue Slushie gives you a completely unique flavor with a refreshing combination of mixed berries. It will remind you of enjoying your favorite blue frozen drink that you've bought from your convenient store.
This refreshing mixed berry vape juice will be your all day vape for sure. If you've not tasted a Blue Slushie vape, you should definitely give a try to OG Blue by Keep It 100. Its powerful punch of raspberries and strawberries is perfect for those who are looking for fruity explosions around the vape taste buds. This vape is ideal for those who love perfection along with an excellent level of fruity goodness.
The OG Blue e-juice by Keep It 100 gives you a truly distinct and well-crafted flavor in a e-liquid form. It's time to see the powerful wave of cooling blue raspberry taking over your vaping palate that feels like a tsunami coming in from distant seas. This vape juice brings you the blue raspberry wave retracts and hints of freshly available strawberries.
When it comes to purchasing Keep It 100 OG Blue E-Liquid, you should look no further than Ejuice Store. We specialize in providing a comprehensive range of Keep It 100 vape juices to choose from for a delectable vaping experience.