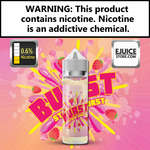 Vape juice is an important component of any vape mod. It provides the vapor and comes in so many flavors. Generally, a vape juice combines flavorings, vegetable glycerin, and propylene glycol to create more satisfying and intense vaping experience. Here are a few best flavors you should try out from Burst Eliquid:
Berry Burst by Burst Eliquid brings you a luscious blend of juicy berries. These berries help you tantalize your taste buds while giving them a refreshing sensation. Every berry is chosen to deliver fruit flavored experience. While vaping, you will take advantage of a wonderful fusion of delicious flavor notes.
The vape juice flavor will exhilarate and satisfy your taste buds even if you've the most intense thirst for vape. On inhale, get ready to enjoy the tartness of berry flavor. You'll feel like your saliva flowing when the tartness becomes invigorating tang.
You will get to enjoy every unique berry when the juiciness of the vape juice goes into the taste buds. When you exhale, the natural sweetness of berries goes over the taste buds and delights your sweet tooth.
Mango Burst by Burst Eliquid features with an exotic mango elixir that gives you nothing but the clean and fully satisfying tropical vaping experience. Every puff gives sticky, sweet mango juice that will refresh your taste buds in the best way as possible.
If you love having ripest, juiciest mangoes regularly, you should look no further than Mango Burst by Burst Eliquid. You will get to enjoy the smooth tang of this tropical fruit on the inhale. The juiciness of mango flavor rushes down the throat to satisfy your vape thirst. On exhale, you will have unique sweetness satisfying you on every level.
Straw Burst by Burst Eliquid comes with exclusive juiciness of strawberry taffy candy boasting rich, creamy swirl of vanilla flavor. This uniquely flavored vape juice has a blend of tartness, tanginess of strawberry flavor and smooth vanilla that will make your taste buds drool for sure.
Every inhale, you will take advantage of bright tartness of strawberry taffy. The juiciness of the strawberry flavor goes deep into your throat while giving a velvety vanilla swirl around your tongue. The sweetness of the taffy candy dominates on the exhale.
Citrus Burst by Burst Eliquid gives you a candy like flavor as this vape juice comes with zesty limes and tart lemons coated by a sugary candy. This Burst Eliquid maintains the perfect balance between sour and sweet flavor notes that will give a sense of intense excitement to your taste buds.
The zesty lemon brings in the citrus flavors that refresh you while the sugary candy finish screeches the sweet tooth with ultimate delight. On inhale, you will get benefited from a combination of lemon and lime flavors which will refresh your vape taste buds with their bright and zesty juiciness. The sweetness of the vape juice comes through slowly. On the exhale, the sugary hard candy shell starts clinging to your sweet tooth.
Melon Burst Vape Juice by Burst 60ml bursts with unique flavor and delivers bold yet intense flavor notes. It has everything to get your full attention. Melon Burst Vape Juice by Burst 60ml comes with a beauteous combination of plump and luscious melons.
This delectable vape juice is available with intensely refreshing flavors of ripe melons for your ultimate vaping experience. You should definitely give it a try and add a bottle of Melon Burst Vape Juice by Burst 60ml to your shopping cart today. After all, it seems like one in a melon flavored vape!
Bottom Line –
What's your favorite
Burst Eliquid vape juice
flavor? Shop for your flavored vape juice by Burst 60ml from Ejuice Store today and get ready to take advantage of delectable, highly intense vaping experience.