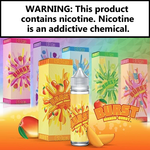 Burst E-juice is a top-rated vape juice company dedicated to create bright fruity flavors. Every flavor bursts with the fruity tones that often get mixed with light taffy textures. All of Burst e-juice flavors are soften and sweeten.
Whether you like to try out fruity Burst flavors or love chucking big clouds, Burst vape juices deliver high clouds and immense flavors. Here are a few best flavors you should consider trying out from Burst e-juice:
Mango Burst by Burst e-juice is a luxury mango flavor that delivers clean and highly satisfying tropical taste. When you take every puff, you will get sticky and sweet mango juice. This vape juice will refresh your taste buds like nothing else. Again if you intend to taste the ripest and juiciest mangoes regularly, you should look no further than Mango Burst by Burst 60ml.
Citrus Burst gives you a candy like flavor that feels like tasting zesty limes and tart lemons. All of them are coated by sugary candy. The perfect balance of sour and sweet flavor notes will give a sense of intense excitement to your taste buds. The citrus flavors have everything to refresh you that sugary candy finish delights the sweet tooth screech.
Berry Burst by Burst e-juice gives you an opportunity to enjoy the luscious blend of juicy berries that refresh your taste palate and tantalize the tongue in the best way as possible. Every berry is carefully chosen to deliver unique fruity flavor. The flavor notes exhilarate you and have the ability to satisfy the most intense thirst.
Melon Burst by Burst E-juice is a perfect combination of honeydew melons and cantaloupe. This unique flavor will replenish with its exhilarating thirst quenching taste. Both melons complement each other effortlessly, giving a unique note of sweetness, crispness and subtle tang. However, cantaloupe has creaminess that gives smooth and silky finish to every hit.
Straw Burst by Burst 60ml is uniquely juicy strawberry taffy candy that gives you a rich and creamy vanilla swirl. The combination of tart, tangy strawberries and vanilla is sure to drool your taste buds like crazy.
When you inhale, your taste buds will feel the tartness of the strawberries. The juiciness of the strawberry flavor goes over the throat and the velvety vanilla surrounds itself around your tongue. Get ready to enjoy the sweetness of the dominating taffy candy on the exhale.
Bottom Line –
What's your favorite vape juice by Burst? Whatever your preferred vape juice flavors, you will get them at Ejuice Store. Whether you want Straw Burst by Burst 60ml or Melon Burst by Burst, our online vape juice store will get your vape juice needs covered.
For more information about our expertly crafted e-juice flavors, feel free to visit our website at
https://www.ejuicestore.com/
. Take a look at our daily vape juice deals and discounts and enjoy maximum savings for your ultimate vaping experience.