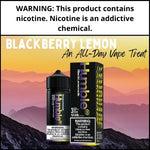 Whether you're looking for a refreshing blend of fruit flavors, or a rich and decadent treat, Humble E Juice Co. has you covered. The brand's selection of vape juice flavors is second to none, and they pair perfectly with any device.
Humble Juice Co. is based in sunny Southern California and has become the industry's go-to brand for premium vape juice. It has developed and manufactured many of the most popular flavors on the market in an FDA-certified lab that uses expert mixologists and quality control experts to deliver its product. The company strives to build brands that consumers can trust by offering premium-quality vape juice at an affordable price without cutting any corners.
Humble Juice Co. offers a wide variety of delicious e-liquid flavors, ranging from decadent dessert flavors like Humble Crumble to refreshing menthol mixes like Ice Tropic Thunder. They even have savory fruit mixes like Pee Wee Kiwi and sweet candy flavors like Vape the Rainbow. Whether you're a candy enthusiast or an avid fruit lover, there is sure to be a Humble Juice flavor that's perfect for you.
Buy Blackberry Lemon by Humble Juice Co 120ml:
Your taste buds will be delighted with this amazing lemon blackberry flavor. This all-day vape that combines the right amount of citrus, with a hint of lemon and topped off with just the right amount of hawaiian blackberry to create yet another all-day vape.
Blackberry Lemon by Humble Juice Co 120ml is a blend of citrus, berry and lemon flavors that blend beautifully to create a flavor that is out of this world. With every pull you will taste the perfect combination of fresh berries. This delicious and bold flavor offers a relaxing experience with each and every puff. Blackberry Lemon e-juice has a sweet and tart finish that pairs perfectly with its soothing effect.
If you're looking for a delicious vape juice, one of your first considerations is always taste. And, if you like citrus and blackberry flavors, Blackberry Lemon by Humble Juice will be right up your alley! Loaded with lemon and citrus flavor, as well as a hint of blackberry, this flavor profile is definitely something you'll want to try. 
Blackberry Lemon by Humble Juice is an e-liquid that will have your mouth watering before you even open the container. It's packed full of blackberries, lemon and citrus flavors, to create an all-day vape treat.