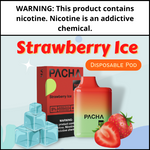 Hello, Ejuice Store welcomes you. 
Ejuice Store is a fast growing online store selling 100% genuine products at very competitive rates. We sell quality eliquids, salt nics, and disposable pods.  We have been serving the market for years and are well aware of our customer's needs and choices. We understand the importance of quality and that is why we prioritize quality the most. For us, your satisfaction matters the most. We assure best of the best products. The best part is that our store deals with unique flavors. Don't worry, you have found the leading dealer to shop for your favorite disposable pods from. We have a very broad range of brands and wide varieties of flavors to buy. You will love our collection for sure. Ejuice Store is the right store for quality disposable pods to buy from. Hence, look no further other than us. 
Strawberry Ice Disposable Pod from Ejuice Store: We have brought an icy and sweet disposable pod for you. If you quite love the taste and smell of Strawberries, then this one is for you. 
This is a disposable pod with a 12ml capacity. It is synthetic nicotine (SYN). There are approximately 4500 per device. The device is rechargeable. 
This disposable pod is rich in sweetness. It is absolutely succulent. So, get ready for a wintry touch. You will find this pod to be extremely excellent. 
You will be finding our every disposable pod to be the best. Our store sells the highest quality of products.
The primary flavors include menthol & strawberry. The VG/PG ratio is 50/50. This disposable pod is from the PACHA Syn brand and manufactured by Charlie's Chalk Dust. The nicotine level presents 50 mg. 
The brand has combined its award-winning flavors to offer a completely satisfying experience. They use cutting-edge technology. 
There are 12 delightful flavors. Every flavor includes synthetic nicotine benefits along with quick-heating & lasting mesh coils. 
There are amazing flavors with us like the - 
All these flavors are worth trying. You will be finding every flavor quite interesting and unique. Try out more products along with the sweetish Strawberry Ice Disposable Pod. 
We will be making your buying smooth.  You can completely rely on us. But anything with confidence from Ejuice Store.
We have top brands to offer. Any new products or sales will be notified to our customers, we regularly update our site. 
We have been delivering vape products for so long. We understand what our customers love. 
So, buy the best products at very reasonable rates only from our store. For any queries, we have our customer service team to address your queries.