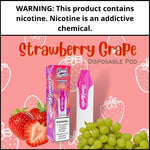 Have you ever tried anything that has the combination of Strawberry & Grape both? No? Then here it is for you. We have brought a sweet strawberry disposable pod blended with fresh grapes giving a long lasting experience. With every use, you will feel both the ingredients. This disposable pod is one among the must try disposable pods. 
Cloud Nurdz, the very chosen and trusted brand is back with its exciting flavors like the Strawberry Grape flavor. Cloud Nurdz is chosen for its bold flavors. If you haven't tried Cloud Nurdz's products so far then try them out soon. We are sure that you will be choosing Cloud Nurdz's disposable pods every time. 
Strawberry Grape Disposable Pod: You will be finding about 3500 puffs in this disposable pod. It has a very long lasting experience on the market. This is made in the USA. The device is manufactured by Smoore. It has a type - C quick charge and is available with 0%, 2,5%, and 5% nicotine strength. The primary flavors of this disposable pod are Strawberry and Grapes, mixed very rightly. Daddy's Vapor Distro has manufactured this amazing disposable pod with absolutely quality and fresh products. The VG/PG ratio is 50/50.
Cloud Nurdz has about 43 bold and unique flavors. Some of them are Aloe Grape, Cherry Berry, Aloe Mango, Iced Melon Kiwi, Melon Kiwi, Mint, Tobacco, Iced Strawberry Mango, Pomegranate Berry, Peach Melon, Watermelon Berry, Strawberry Grape, Iced Sour Watermelon Strawberry, Iced Very Berry Hibiscus, Iced Peach Melon, and many more. 
We have excellent products to offer. Take a look at our product line and add more exciting products to your cart. Get interesting flavored eliquids, disposable pods, and salt nic at super competitive rates. We are very much confident with our products. We will be providing you with a very good experience of buying at our store. Our store guarantees a quality product and quality service. We have been dealing in this industry for long period and we know our customers well. We always develop to make our products & services even better.  We are now a very fast growing online store, selling the highest standard of products from top brands. 
Along with Cloud Nurdz, we have other top brands as well like Juice Head 5K, Phrut, Humble Disposable, Noms, Esco Bars, and others. 
Take a look at some more products - 
Mixed Fruit Cookie by Sadboy 100ml
We have our friendly and experienced customer service team to answer your call. So, if you have any queries do not hesitate to contact us. We will be with you even while you buy and after your buy. 
So, reach out to Ejuice Store for 100% genuine products at the best value.