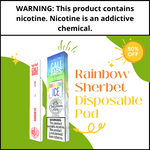 Hey, are you looking for a quality disposable pod? Then, you have arrived at the right store. We are here with the best disposable pods. You will find our collection to be just perfect. The flavors we create cannot be found anywhere else. Ejuice Store is known for its unique authentic flavors and blends. If you are keen to try all types of interesting flavors in the line of vape products then Ejuice Store is just for you. We will become your favorite, and that's our guarantee. Our top-quality products win every vape lover's heart. We being the leading vape product retailer understands what customers wish to receive and we work accordingly to meet their needs and expectations. Don't worry, you are exactly at the right place, for vape product buying. Ejuice Store is a reliable store to shop from.
So, how about trying a rainbow based disposable pod? Sounds unique, right? It is. 
Rainbow Sherbet Disposable Pod by Ejuice Store: This always leaves a long-lasting impression. This Rainbow Sherbet pod includes 5000 puffs. It is equipped with the mesh coil technology. This is made with tobacco-free nicotine. So, be ready to vape the cleanest flavors. 
You will find this to be super interesting. This disposable pod is surely going to leave a great impression on you. You will be getting an awesome feel. It comes with 12 exciting flavors which are – 
Apple Ice: Succulent and crisp apples with a chill menthol finish are sure to blow your mind. 

Aloe Grape Ice: Refreshing aloe, sweet red grapes, and a menthol finish give a very refreshing cool feel. 

Banana Ice: How about yummy ripe bananas topped off with icy menthol? 

Blue raspberry Lemonade: The classic tart mix of blueberries and raspberries, paired with refreshing lemonade will be your refreshment. 

Grapefruit Ice: Ripe, citrus, grapefruit with a cool menthol kick is what a perfect blend should be. 

Honeydew Ice: The floral sweet flavor of honeydew, and a cool menthol kick is sure to give unique experiences. 

Icy Mint: Freshly picked mint with a blast of cool menthol will take your heart. 

Lychee Ice: A fruity and tropical exotic lychee with an icy menthol punch is a must to try. 

Peach Ice: The subtly sweet taste of peaches, chilled with menthol

Rainbow Sherbet: The classic frozen treat consisting of a medley of citrus fruit flavors is waiting for you. 

Strawberry Ice: How about trying Plump & Juicy red strawberries infused with cool menthol? 

Watermelon Ice: A fresh summer needs a fresh watermelon with an icy menthol finish to try out. 
The primary flavor of this Rainbow Sherbet disposable pod includes Citrus, Menthol, and Fruit Mix. It is from the very popular Lucid Air brand and is manufactured by the top Shijin Vapor manufacturer.
Shop today.