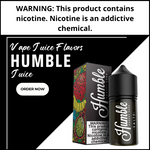 When it comes to fruit flavored vape juices, strawberry rules the clan. Strawberry flavored vape juices entice not only the newbie vapers but also the seasoned vapers. And when it comes to strawberry flavored cheap vape juice, Humble Juice Co brings you the best quality vape juice. And we at E Juice Store bring you the different flavors by Humble Juice Co. that will make you fall in love with . Let us take a look at some of the top vape juice flavors by Humble Juice Co. you can find in our inventory.
Strawberry Waffle Vape Juice by Humble Juice Co.
Strawberry Waffle is a scrumptious strawberry-covered dessert vape juice that comes with a rich syrup and light buttery waffle flavor. It is a great option for a morning vape and all-day vape. Just close your eyes and you will be right there at your last vacation resort, sitting on the balcony enjoying a hot delicious plate of waffles in front of you. On the inhale you will experience a sweet rush of juicy strawberry that will smother your tongue. Your taste buds will be pleased with each puff as those tart notes from that savory waffle dance across them. On the exhale a milky cream flavor washes down the passionate fruity flavors.
Blue Slushee by Humble Juice Co
Blue Slushee by Humble Juice Co is an amazing vape juice flavor that will make you fall in love with vaping all over again. The blue-colored drink is one of the our childhood favorites that we get from the slushy machine. It is fresh, fruity, and fragrant and comes with a cool touch of ice for that genuine slush experience. Tart playful notes on the inhale and sweet-tart notes on the exhale.
Guava Kahn is a new rendition by Humble Juice Co. that is a remix of the Donkey Kahn strawberry banana and dragon fruit with a twist of guava vape juice!
Peach Pleasure by Humble Juice Co 120ml
Peach Pleasure by Humble Juice Co. is a perfect blend of luscious strawberries and dragon fruit, followed by rich ripe peaches to give pleasure to your sweet tooth. The inhale begins with tart dragon fruit juice that drips down your tongue, that will make your mouth pucker with joy. The tartness eventually begins to fade, leaving room for the strawberry flavor's lip-smacking sweetness. Then, the distinguishing tanginess of succulent Georgia peaches emerges, hitting the spot when you are feeling thirsty. On the exhale, these three fruits continue to satisfy with a hint of natural sweetness, leaving you feeling incredibly satisfied.
Smash Mouth by Humble Juice Co
Get indulged in a seductive blend of fruity delights with Smash Mouth by Humble Juice Co! A hard-to-resist, sweet mix of strawberries, graham crackers and smooth, rich custard will make you feel love vaping like never before! This incredible combination is a classic taste that you just can't resist. Give in to your cravings and add this mouth-watering juice to your collection.
So visit E Juice Store today and find the vape juice flavor you love!