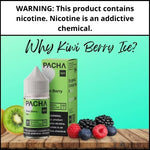 Are you looking to buy something exceptional to vape all day? Then, why don't you choose the Pachamama Salts vape juice collection! Pachamama Salts is an excellent collection of the Pachamama, which presents you with the most incredible flavors and a perfect infusion of synthetic nicotine salt known as tobacco-free nicotine.
All vape juice flavors from Pachamama Salts give you an outstanding experience. They will complement your vape taste buds and cravings very well. Nevertheless, of the flavors you buy from the collection of the Pachamama Salts, they provide you with a delectable vape experience through an outstanding selection of fine ingredients.
Pachamama has the same mind behind the Charlie's Chalk Dust brand – one of the legendary ejuice manufacturers dedicated to creating exceptional flavors that vapers today call favorites for their all-day vape experiences. Out of all tastes, the Kiwi Berry Ice vape juice makes a delectable vape juice by Pachamama Salts.
The Kiwi Berry Ice vape juice by Pachamama Salts gives you a fantastic combination of flavors for perfect enjoyment. Vape juice is undoubtedly something that you need to add to your vape juice list to try out. The Pachamama Salts eliquid flavor presents you with a fascinating experience by perfectly combining kiwis, strawberries, blueberries, and the refreshing sensation of menthol. All of these flavors will linger around your airways the best way possible.
You might be, wondering what makes Kiwi Berry Ice vape juice stand out from the rest. Kiwi Berry Ice by Pachamama Salts comes with a unique combination of delectable flavors that create a fabulous vape taste like no other. This complex ejuice creation uses a perfect mix of kiwis, strawberries, blueberries, and ice-cold menthol flavor to provide a refreshing vape that you'll want to puff again and again every time you get a chance. From one puff to another, this vape will be something you want to savor again and again.
Though the Pachamama Salts Kiwi Berry Ice vape juice tastes remarkably flavorful and can give you everything you expect from a fruity-flavored vape blend, this vape juice comes in a small 30mL bottle, and you can enjoy it in synthetic nicotine salt – tobacco-free nicotine with strengths of 25mg and 50mg.
Pachamama Salts Kiwi Berry Ice vape juice is a deliciously flavorful blend that combines refreshing kiwis, strawberries, menthol, and blueberries. It not only gives a highly delicious taste; but also a refreshing experience. If you are looking to buy a fruity vape blend for your increasing arsenal of vape flavors, you should give it a try. You will fall in love with it after just one puff.
If you want to buy Kiwi Berry Ice vape juice by Pachamama Salts, please check out the exciting deals and special offers on vape juice blends available at Ejuice Store – a trustworthy online vape store. Look at our available flavors from top-rated vape brands and make a favorite to add to your all-time vape collection.