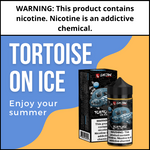 What if we say we have brought a perfectly blended product of unique ingredients. Yes, we are here with an all new vapor product having menthol, blue raspberry, and green apple as its primary ingredients. You will be falling for this. Ejuice Store is the best store to choose from if you want a unique taste to taste. We have a wide collection of vape products, with all unique flavors. Ejuice Store is the leading online vape product retailer. We deliver the best quality of products at affordable prices. We bring fresh ingredients and then create unique products for our customers.
Ejuice Store is loved by many for its outstanding products at such unbeatable rates. Why look here and there when there's an Ejuice Store to shop for your favorite flavor of vape product? You will get your orders delivered in a very short time. We are trusted for offering top-quality customer service.
The best part of the Ejuice Store is its consistency. We keep maintaining the top-quality of our products and services, in fact, we keep developing our services as per customers' growing demands. Shop from our store once and we will become your favorite and that's our guarantee. When it comes to online vape product buying, Ejuice Store is the most chosen option, we are trusted by many. 
We have the best brands of products. Ejuice Store offers e-liquid, disposable pods, and salt nics of top known brands. We know our customer's choices and that's why we are trusted. Ejuice Store has all your favorite flavors, you will fall for our collection, and they are worth admiring.
Ejuice Store is growing its online inventory by offering the hottest and latest vape products from the popular brands of the industry. Our every product is 100% genuine. You will have a friendly staff to assist you whenever you are in need. From products to ordering and delivery, and customer service, we are in the top position.
Tortoise On Ice by Shijin Vapor 100ml: So here is our vapor that will give you a unique feel. It can make any fruit-flavored menthol fan go crazy. This product has a unique touch of green apple-blue raspberry sherbet, along with a menthol kick in every inhalation. This Tortoise on Ice is the final Tortoise Blood ejuice rendition to complete their trio, ' The Tortoise Trio'. 
This amazing vapor has green apple, menthol, and blue raspberry, all combined uniquely. The manufacturer of this unique product is Shijin Vapor which has nicotine levels of about 0mg, 3mg, and 6mg. The VG/PG ratio is 85/15. This vapor is going to win your heart completely. So, do not wait for more, just get your order placed now itself so that you can try out this soon.
For more details give us a call. We will reach out to you in no time. Ejuice Store has very friendly customer service. 
Shop the unique vape product and enjoy.