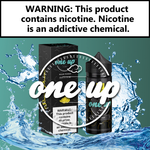 Do you visit vape stores or vape websites often? You'll be likely to come across an extensive selection of disposable pods, cartridges, and bottles filled with flavored vape juice. The vape juice is heated in vape rigs and e-cigarettes and creates an aerosol that users inhale. Here are a few delectable flavors you should try out from One Up Vapor Original:
When the summer hits, you'll feel refreshing sensation after taking a bowl full of ice cream topped with golden brown churros. It will be a good treat on a hot summer day. You'll get yourself immersed in a fog of spicy cinnamon sugar and rich vanilla with a unique flavor blend of churros and ice cream.
Sour Power by One Up Vapor Original brings in a unique combination of green apple and citrus. This vape juice gives you a unique combustion of sour flavored vape juice that will appeal your senses for sure.
You will get to experience a mouthful of crisp green apple topped with tangy orange and lemon. The powerful vape will make your mouth water.
Take a refreshing vape of classic sweet and sour flavored green apple and strawberry strips that feels like having straight from the candy store. Every hit gives you a sour taste due the presence of tart green apple and soothes your vape taste buds with juiciness of fresh strawberries.
One Up Vapor comes with a new addition to the line-up of award-winning Churros collection i.e. the Cereal sprinkles. Churros and Cereal by One Up Vapor Original combines the delectable rainbow crisps with sugary flavored cinnamon taste.
The classic taste of Churros comes with a brand new twist like an ice cream dessert. You'll taste a fresh hot churros dusted with sweet sugary cinnamon. This vape flavor is topped with a scoop of strawberry ice cream. You should get yourself ready for this irresistible and decadent dessert vape that will blow you away for sure.
Strawberry Gummy is the signature flavor by One Up Vapor. It's a must-have flavor for anyone looking to enjoy freshly available summer strawberries and delectably flavored gummy candies.
This award-winning One Up Vapor Original vape juice will take your taste buds on an exhilarating yet exciting ride. Orgasm by One Up Vapor Original combines watermelon and guava with its secret combo of tropical fruits. This flavored vape will give you a taste that's better to experience in person.
Bottom Line –
Now, what's your favorite flavor from One Up Vapor Original? Nevertheless of your preferences, you'll take advantage of discounted deals and special offers available at Ejuice Store. Start shopping your delectable One Up Vapor Original vape juice today and get ready to enjoy delightful vaping experience.