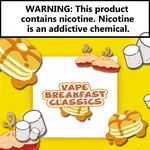 If you are thinking of trying vaping to quit smoking, and you are overwhelmed with the numerous vape juice flavors available! We at E Juice Store being a leading and experienced online vape juice dealer we have brought you one of the best and most popular line of vape juice i.e. (Tasty Flavors) Vape Breakfast Classics.
All About Tasty Flavors
Tasty Flavors US is a company established in the year 2013 that has created the range of Vape Breakfast Classics and the world famous products such as Pancake Man, French Dude, Great Crepe and Glazed Goodies. Their love for breakfast themed flavors have led the manufacturers to create these incredibly tasty flavors. And they shared these exceptional flavors for the breakfast lovers of the world. The manufacturers found their niche within the vape industry and have become number one in the category. They have been distributing their vape flavors in more than 80 countries worldwide and is admired by millions.
Vape Breakfast Classics vape juices deliver the scrumptious breakfast flavors that you will think about all day long. You can find a myriad of vape flavors with the manufacturer ranging from the fluffy, syrup soaked pancakes to the rick French toast that is overwhelmed in tasty toppings. The brand knows how to satisfy those crazy breakfast cravings well like nobody else.
The Flavor Profiles from the Manufacturer Include:
Pancake Man Deluxe Vape Juice: The vape juice comes with a stack of buttery pancakes topped with fruity cereal, puffy marshmallows and a generous scoop of vanilla ice cream.
French Dude Reload Vape Juice: It is a drool-worthy take on custard-soaked French toast that is smothered with fresh blueberries, gluey syrup and bubbles of whipped cream.
Deluxe French Dude Vape Juice: It is a custard-soaked toast flavor that is slathered in gooey syrup and topped with a heavy amount of fruity, sugary cereal.
French Dude Mango and Cream: This vape juice puts a tropical spin on an iconic breakfast flavor. With its blend of rich French toast, sweet syrup, velvety whipped cream and fresh mango slices it will make you drool and crave it for more.
Granny's Pie Peach Cobbler: The vape juice brings you the flavor of a homemade pie, just like grandma used to bake in the kitchen as it consists stewed peaches coated in a magnificently buttery, sugar-coated crust.
The Vape juice collection from Vape Breakfast Classics E-Liquid is a delightful breakfast fantasy for everyone that comes with exquisite flavorful blends, made with only the finest ingredients out there.
If you want to explore more with us then visit our website today.