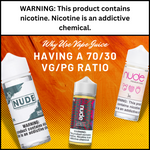 It is the vape juice that determines the enjoyment when you vape. When you are in a store, be it online or physical, you must have noticed that different vape juices have different VG/PG ratios and nicotine levels. The vaping device and your personal preference will determine which VG/PG ratio vape juice you will need to buy.
It is that all have their favored VG/PG ratio. It differs from person to person. However, if you prefer a 70/30 VG/PG ratio, it is ideal to buy B.R.S. by Nude in120ml. It is wise to know the advantages of using such a vape juice with such a VG/PG ratio of 70/30. In short, the liquid contains 70% vegetable glycerin and 30% Propylene Glycol.
VG or vegetable glycerin is a natural liquid having a sweet flavor and is thick. Due to the organic ingredient, it has a shorter shelf life. On the other hand, PG or propylene glycol is a non-toxic artificial liquid that is thin and has a natural flavor. As it is not natural, it has a longer shelf life.
It is safe to use both VG and PG, and these have wide use to convey flavors in various consumable products. However, it is good to know at the onset that PG can cause irritation in the throat and lead to allergies. So, it is the best option to opt for vape juice having a 70/30 VG PG ratio. 
Before discussing the advantages, it is good to know that we at E Juice Store are a reputable online vape store in the U.S.A. for purchasing the best quality vape juice and other vaping devices.
Let us look at the advantages of using this type of vape juice.
Smoothness 
If you use vape juice having 70 VG and 30 PG, it will be possible to have a much smoother feeling on your throat. It will also be possible to have a thicker mouthful as the vape juice has a higher VG. This is advantageous as you will experience the slightest throat hit and not feel overpowered.
Cloud chasing 
If you love to exhale a bigger cloud of fumes, it is ideal to use a vape juice like B.R.S. by Nude in120ml, having a VG/PG ratio of 70/30. The vapor production depends on the VG, and as it is plentiful in such vape juice, you can have more incredible vapor.
A lower level of nicotine 
It is possible to have vape juices with lower nicotine levels when you use a VG/PG ratio of 70/30. However, as you inhale massive amounts of vapor, you will not need a higher nicotine level to have the best satisfaction.
Vape juices having 70 VG/ 30 PG is ideal if you are a casual or lifestyle vaper. Such vape juice has little of everything, like a decent level of delicious flavor, an enjoyable even throat hit, and big clouds while you exhale.