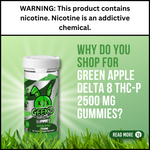 Do you love vaping the Geek's Delta-8/THC-P disposables? If yes, then you won't be disappointed with all-new Geek'd Extracts gummies. These gummies are extracted from the live resin concentrate that contains the perfect blend of Delta-8 THC and THC-P. 
Geek'd Extracts presents four delicious flavors and every gummy is made with superb quality organic ingredients and delectable natural flavors. They are completely vegan, free of gluten and Non-GMO. 
If you are a first-timer, you should start with half a piece and allow a couple of hours for full effect before taking another dose. The gummies are compliant with the 2018 Farm Bill Act as they contain less than 0.3% Delta-9 THC. 
Every Geek'd Extracts disposable comes in 2500mg with a unique cannabinoid blend distillate and potent terpenes. A switch on the device allows you to make a switch between the Indica strain and the Sativa strain. Switching between both strains gives you an amazing opportunity to enjoy the experience of both worlds as far as desired effects are concerned. The disposable is rechargeable through USB Type-C. 
Any combination of two or more cannabinoids will make a perfect blend because of the entourage effect. Delta 8 THC and THCP are amongst the most popular combinations that most vaping companies use in their blended products. Delta 8 and THCP make amazing blends as they provide the best of both worlds experience. 
Delta 8 is well-known as a milder cannabinoid with a nice heady and euphoric feeling with a shortage in potency. Adding THCP to the blend gives legs to Delta 8 THC offering more potency and extending its effect duration. In addition, it adds a more profound and relaxed body high than Delta 8. 
Special Features –
Made by Geek'd Extracts 

2500mg per bottle

Extremely potent formula 

Vegan ingredients 

Delectable fruity flavors 

2018 Farm Bill Act Compliant as contains less than 0.3% Delta-9 THC
Bottom Line –
When buying Geek'd Extracts disposables, you should look no further than Green Apple Delta 8 THC-P 2500mg Gummies. Your taste buds will experience the flavorful green apple blend with all new Geek'd Delta 8 THC-P 2500mg Gummies. So, shop your favorite Green Apple Delta 8 THC-P 2500mg Gummies by Geek'd Extracted from Ejuice Store today and enjoy the delectable green apple delight to the fullest. 
Please check out other available flavors by Geek'd Extracts and find your favorite for your ultimate vaping experience. Browse our exciting deals and amazing offers on vape juice blends and disposables to save more on your vape.