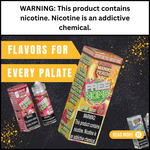 Vaping has become one of the most common and interesting ways to quit smoking tobacco. What makes it interesting is the different delicious flavors one gets to experience and taste. As more and more people are turning into vapers, you can discover a large number of vape juice manufacturers and brands in the market. Every manufacturer tries to experiment with different flavors but only a few brands succeed in enticing vapers of all kinds. And Free Noms is one such brand that creates unique and interesting flavors of vape juice that are loved by vapers of any kind. Whether you are a new vaper or someone who has tasted various vape flavors, you will fall in love with the flavors by Free Noms. 
We at EJuice Store always make sure to carry a wide selection of vape juice brands that are popular as well as create amazing flavors. Hence, we also carry Free Noms vape juice in our online inventory. Take a look at some of the best seller vape juice flavors by Free Noms we offer below:
Blueberry Strawberry Kiwi Yogurt by Free Noms 120ml
Blueberry Strawberry Kiwi Yogurt is a flavor that will rejuvenate your taste buds with its flawlessly blended vape juice mixture. The flavor comprises fresh creamy kiwi yogurt that is topped with chunks of ripe strawberry and juicy blueberry.
Green Apple Strawberry Peach ICE by Free Noms 120ml
Green Apple Strawberry Peach ICE is an invigorating blend of crisp green apples combined with ripe Georgia peaches and tart strawberries. To give your taste buds an icy dash the vape juice includes a cold blast of menthol sensation.
Dragon Fruit Strawberry Cream by Free Noms 120ml
Dragon Fruit Strawberry Cream is a scrumptiously fruity and creamy combination that delivers the notes of exotic dragon fruit, and succulent vine ripened strawberries which is topped with a cream that covers up the fruitiness and offers a completely incredible flavor to vape.
Guava Mango Peach by Free Noms 120ml
Guava Mango Peach by Free Noms 120ml is a revitalizing and mouth-watering flavor explosion that will stimulate your taste buds instantly just like a delectable smoothie on a summer day. You will experience a tangy mango taste on your taste buds on the inhale. Let its sugary taste send you off to paradise. On the exhale, the combination of peach and guava creates a delectably appetizing jumble of flavors.
Tobacco Caramel Vanilla by Free Noms 120ml
This vape juice flavor brings you the classic tobacco richness with a little extra sweetness. Tobacco Caramel Vanilla is an incredible vape juice that blends the enduring tobacco flavor with mouth-watering goodness of caramel and vanilla.
Browse our online vape store today to discover the other flavors by Free Noms and more.