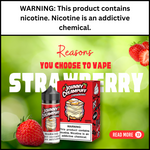 Johnny Creampuff is a new ejuice brand presenting an extensive selection of delectable vape juice flavors to choose from. Vapers have had nothing but good things to say about their vape juice delights and they continue to stay on the top of the charts when you will take a look at the best sellers. You can expect big things from the vape juice brand as they continue bringing up delectably flavorful vape juices best match their customer's preferences. 
Out of all flavors, Strawberry by Johnny Creampuff 100ml is a premium flavor that will make you crave more from the beginning to the end. This flavorful ejuice uniquely melts in your mouth by giving a fresh flaky pastry flavor from the oven filled with sweet strawberry cream. What could be a better way to enjoy this amazing flavor all day and night? 
Strawberry vape juice by Johnny Creampuff 100ml is considered the party-themed vape juice flavor and you can't get enough of them. On the inhale of this premium eliquid, you will get a delectable flaky pastry flavor that you will never be able to get enough of. The exhale gives you a flavorful taste of sweet and succulent strawberry cream filling that will make you come back for more. 
Rather than heading to the local bakery, you can reward yourself with a warm oven-baked strawberry creampuff. The Strawberry by Johnny Creampuff cascades your taste buds with a pastry filled with vanilla and strawberry cream to give you an experience that will make you feel guilty for sure. 
The sweet and decadent strawberry vanilla creampuff will delight your senses. Strawberry vape juice by Johnny Creampuff 100ml, Tinted Brew Liquid Co. is finely crafted to give a solid kick to your sweet tooth. The Italian bakery has nothing to do with this creampuff flavor and the vape juice is stuffed with strawberry and vanilla cream filling. Get ready to enjoy the amazing throat hit of smooth strawberry flavor. You won't feel any charring or burning; so you won't need to worry about any negative consequences like a nasty cough. You can make it your new all-day vape and you will love it for sure. 
Strawberry by Johnny Creampuff is a masterfully crafted vape juice recipe with the creamy goodness of freshly-baked creampuff and an infusion of sweetened strawberries. While vaping, you will enjoy a richly flavored vaping experience that you will love. This delectable vape flavor is highly inspired by a light fluffy Italian pastry flavor filled with rich cream and goodness to appeal to your taste buds with every puff. 
This delicious premium e-liquid is available in a 100ml bottle and can satisfy your sweet tooth throughout the day and every day. Grab a bottle of Strawberry by Johnny Creampuff 100ml from Ejuice Store – a premier vape juice today and take advantage of exciting offers and special deals.