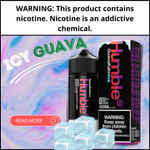 Are you a vaping enthusiast? If yes, then you might've come across enormous varieties of vape juice brands that play significant role in the vaping industry. There are only a few selected ones which have garnered more popularity, top the sell charts and have been considered to simply the best in the industry. 
When it comes to choosing the top-rated brands, why don't you give a try to Humble Juice Co lineup of vape juice flavors! Humble Juice Co is a top vape manufacturing brand dedicated to creating and developing some of the industry's most popular vape juice blends combining the delicious flavors. The brand is well-known around the world for its complex and creative lineup of flavor concoctions. Headquartered in California; Humble Juice Co is currently an iconic name in vaping by boasting some of the most award-winning flavors. 
The vape brand always believes on delivering unmatched quality by infusing superior standard flavors. With an extensive selection of delectable tastes, some of the best quality vape juices available on the market and loads of vapor, you can enjoy a puff away on all day. 
Out of all flavors, you need to try out Ice Guava Kahn by Humble Juice Co 120ml. It's a complex symphony of flavors. While vaping this vape juice, you will enjoy a tropical blend of different fruits and a twist of menthol. All of them are combined together to create a fascinating infusion of tastes that you will get from very beginning puff to the end. 
Ice Guava Kahn by Humble Juice Co 120ml is an outstandingly developed vape juice featuring five different flavors. It will provide you with a truly exhilarating vape experience that you'll simply love the most. 
This vape juice combines fruits like guavas, strawberries, bananas, dragon fruit and bone chilling cool menthol. They are perfectly combined to delivering a refreshing, delicious all-day that you can't simply get enough of. Available in a 120ml bottle, Ice Guava Kahn by Humble Juice Co allows you choose from 0mg, 3mg and 6mg nicotine strengths best suiting your vaping preferences. 
A beautiful harmony of flavors, this Humble Juice Co presents you a remarkably delicious taste. This perfectly developed vape juice blend tastes good and makes sure that you get refreshing vaping experience that will please your taste buds for sure. If you're looking for a new favorite vape flavor, you should look no further than Ice Guava Kahn by Humble Juice Co 120ml.
Ejuice Store stocks most popular and delectable vape juice brands that everyone considers being some of the best in the vaping industry. From delicious fruit delights and tasty desserts to sweet candy flavors, there are so many varieties to choose from. 
If you're looking for a new vape juice flavor to add to your arsenal, our extensive collection will make sure that you find more than a handful selection of all-day vape flavors. Please visit our website today at
https://www.ejuicestore.com/
and find the best deals for your vaping needs.