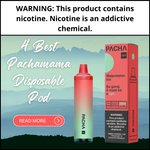 Just imagine vaping the unique flavor that you've never experienced before. The Pachamama Synthetic Disposable Vape experts combine award-winning flavors with cutting-edge technology dedicated to creating a satisfying experience. The disposable pod flavors are available in 8ml capacity and each of them gives you the taste enhancing benefits of synthetic nicotine, faster heating and long lasting mesh coils allowing you to get the most out of every puff. Get ready to enjoy over 3000 puffs per every device.
Pachamama Synthetic Disposable Vape is recognized for its extraordinary arsenal of customer focused flavor delights. It is well-known as a staple brand in the vaping industry and is further expanding its vape collection with its exclusive lineup of disposable vapes. All of the disposable vapes are the stellar vaping device delivering the unmatched quality and unparalleled tastes like its past creations. This disposable vape device has a synthetic nicotine formula and comes within a compact, convenient and performance-driven.
The Pachamama Synthetic Disposable Vape is a vaping device featuring a unique disposable design. No matter whatever flavor you want, all of them come pre-filled and pre-charged and are ready to give you ultimate vaping pleasure as soon as you receive the packaging. This device is visually appealing and highly impactful. It's of small size; but with a large 8mL vape juice capacity consisting of 5% synthetic nicotine.
The Pachamama Synthetic Disposable Vape comes with a large battery and a performance-driven mesh coil boasting both flavor and vapor output. You can expect only the best from the Pachamama disposable. You will get to enjoy as many as 3000 puffs per device. Find everything you really hope for in this convenient vape device. It delivers ease of use, high performance and flavorful puffs to enjoy throughout the day.
4 Best Pachamama Synthetic Disposable Vape Flavors
Lemon Meringue
Lemon Meringue Disposable Pod by Pachamama Synthetic Vape gives you an incredibly satisfying experience that you love vaping again and again. This flavor recreates the ultimate dessert delight which you'll love to turn it into as your flavored vape.
Pink Lemonade
Pink Lemonade Disposable Pod by Pachamama Synthetic Vape will give your taste buds an excellent taste that you can't live without. This beverage vape will make your experience extremely enjoyable. It will create the most soothing flavorful experience that tastes extremely natural like no other.
Strawberry Ice
Strawberry Ice Disposable Pod by Pachamama Synthetic Vape allows you to enjoy the most wonderful tastes possible. This delectable concoction is able to complete your day. This disposable blend brings together a unique combination of juicy red strawberries and tropical kiwis. It will leave you with a pleasurable experience at the end.
Watermelon Ice
Watermelon Ice Disposable Pod by Pachamama Synthetic Vape is an ultimate classic flavor that you want for all day. It is a truly fascinating flavorsome vape combining delicious strawberries and the coolest delight of menthol. This flavor will leave you with a refreshing watermelon taste that you'll love vaping again and again.
Bottom Line –
When it comes to consider different disposable pod flavors by Pachamama Synthetic Vape, you should look no further than a reliable
online vape juice store
i.e. Ejuice Store. Shop your favorite flavor today and get ready to enjoy the all-day vaping experience.