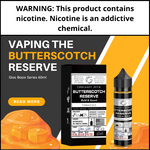 Do you want to enjoy the perfect blend of sweet and tobacco flavors? If you enjoy an exceptional vaping experience, you will simply love the Butterscotch Reserve vape juice by Glas Basix Series 60ml! It comes with a creamy RY4 tobacco flavor with unique hints of rich butterscotch, vanilla, and caramel. The vape juice gives a bold, rich sensation. 
On the inhale, you will instantly enjoy the satisfying tobacco taste that gives you a throat hit. Most vapers find it the perfect all-day vape. When you exhale, you will enjoy the glorious butterscotch and caramel flavors swirling around the tongue. It will make your sweet tooth sing with happiness as you go for another draw by using your favorite box mod. 
The Glas vape juice is available in a medium-sized bottle and comes with the base of 70 percent vegetable glycerin (VG) and 30 percent propylene glycol (PG), giving a nice, solid throat hit and big, fluffy clouds of vapor. You will get a flawless vaping experience. The vape juice is made with quality ingredients allowing you refreshing vape sessions. You will enjoy vaping all day long to satisfy your vape cravings. 
Nothing matches the flavored taste of tobacco vape juice when it comes to enhancing the sweet taste of tobacco. You will enjoy the additional spark of sweet caramel and candy sidekick served by its side. It will save the day for those true tobacco enthusiasts. You will enjoy indulging your taste buds with a thick cloud of milky vapor that takes over your mouth and layers the sweet taste of caramelized brown sugar, hints of milk, chocolate flavor, smooth vanilla, and a touch of nutty almonds on the first inhale. You will enjoy the smooth taste of refreshing Cuban tobacco flavor dipped into the melted caramel flavor collided in a smoky taste giving you a lifetime experience. 
Butterscotch Reserve Vape Juice by Glas Basix Series 60ml offers you the natural butterscotch taste with a tobacco taste complementing both flavors to get the slightly harsh and smooth tobacco experience. In addition, you will enjoy the flavor of candy snacks to deliver a more captivating experience for those who don't want straight tobacco flavors. 
You will enjoy a flavorful experience beyond the classic taste of tobacco. Whether it's the butterscotch or caramel flavor, the Glas Basix vape juice will be one of those vape tastes that you love vaping again and again. No matter your vape preferences, it will put you back into your seat when you take in all the flavorful goodness in every puff. 
If you want to enjoy Butterscotch Reserve Vape Juice by Glas Basix Series 60ml, consider shopping it now from the Ejuice Store. Take advantage of discounts and specific offers to enjoy vaping on the go at fair prices.