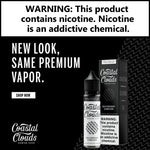 Bored with the usual vape flavors? Want to try some unique and unusual flavors? Then we at Ejuice Store would recommend you to go for Coastal Clouds. Coastal Clouds is one of the top vape juice manufacturers that comes with a wide variety of vape juice flavors as well as nicotine salts without any freebase nicotine. These are low strength "cloud chasing" vape juices that make use of nicotine salt for smoother and richer flavors without any insensitive sensations.
We have been in the industry for years now and hence we can assure you that Coastal Clouds offers some of the best vape juice flavors to try. Let us take a look at some of the top flavors from the manufacturer below:
Iced Apple Peach Strawberry Vape Juice
Iced Apple Peach Strawberry Vape Juice by Coastal Clouds is one of the top rated fruit-based menthol flavor sold in vape companies. It is a vape juice flavor that is a light blend of crisp apple, juicy peach, and scrumptious strawberry that will invigorate your taste buds to the core while offering delectable clouds of juicy fruit flavor. You can also find this flavor in the non-iced version.
Citrus Peach also known as Tasty Nectarine previously known as Sugared Nectarine is a low concentration vape juice and as a high concentration nicotine salt. Tasty Nectarine amalgamates sweet and tangy citrus with hints of lip-smacking peach in a wonderful blend of satisfying sweetness.
Mint vape juice by Coastal Clouds is flavorful option that comes with a blast of cool stimulating spearmint and peppermint taste that is ideal for menthol vape lovers and this vape juice flawlessly rinses out your palate.
Blood Orange Mango Vape Juice
Blood Orange Mango vape juice features tropical fruit flavors with a dash of creamy vanilla offering a satisfying creamy feeling to relish throughout the day.
Blueberry Banana Whip Vape Juice
Blueberry Banana Whip vape juice features an aromatic delight that combines sugary mashed fruit and fleshy high bush berries in a freshly baked muffin.
Why We Recommend these Coastal Cloud Vape Juice Flavors?
All the vape juice flavors we have listed above are the top rated delectable options from the house of Coastal Clouds. Although the manufacturer has several other enticing flavors in its inventory to choose from but we have found these flavors being most loved! If you think these flavors aren't your favorite, then you can check out the other flavors from the manufacturer that include:
So choose the flavor you love and let us know! We will provide you your desired flavor at the best price! Browse our website today!