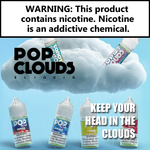 Grapes have been one of the most popular fruits known to man. Taking a look at the history of human civilizations dating back to ancient Egypt till the Roman Empire, one fruit that stands out is grapes. The experimentation on grapes has been carried out since as far back as 8,000 years. And grapes are world-renowned for their use in wine production. But that doesn't mean that this fruit isn't enjoyable to eat. According to some surveys, more than 70 million tons of grapes are produced across the world annually. 
If you are into the vaping industry then also you can take delight in the delectable grapy flavor. You can discover a number of grape flavored vape juices in the market today but we at E Juice Store would like to recommend to you the Grape Vape Juice by Pop Clouds 60ml bottle. Among the various alternatives available, the Grape Vape Juice by Pop Clouds 60ml stands out due to a number of reasons that are worth bringing to the limelight. Besides the deliciously natural fruity flavor, Grape Vape Juice by Pop Clouds 60ml comes with a number of benefits. Let's take a look:
A Rich Flavor Profile
The Grape Vape Juice by Pop Clouds features an exclusive full-blown juicy relish of real grapes. This vape juice captures the natural fruity flavor of ripe and sweetened grapes. To give it a more tantalizing flavor the vape juice has added a sweet sugary coating making it a true fruity dessert affair. Just vape it, and you will be blown away with an incredibly irresistible feel yielding instant satisfaction. What else would you expect out of your grape vape juice?
Enhances Your Vaping Experience
With its sugary sweetness, the resulting delectable flavor will make your taste buds fall in love with it instantly which you will never get with that horrible taste of tobacco. No matter how you carry out the mixing, the natural fruity dash will leave your taste buds craving for the flavor more and more. This is the best way any vaper can make it easier to reduce nicotine levels and ultimately avoid the compulsion to try the real cigarettes. 
No Wicked Odor
Just like any other grape flavored vape juices, Grape Vape Juice by Pop Clouds 60ml also contains no wicked or foul odor. It makes the vaping experience even more pleasant. The smell if any is barely noticeable unlike tobacco that can make your environment and nearby things smelly and a mess.
Better Flexibility
It is apparent that you have the freedom to control the nicotine strength in line with your taste or health requirements. Grape Vape Juice by Pop Clouds 60ml offers better flexibility when it comes to blending opportunities i.e. you can blend this vape juice with other fruity e juice options when you seek an unusual and instant kick.
Satisfaction Par Excellence
If you keep everything else aside, the ultimate goal of vaping is to keep your compelling cravings at bay. Therefore, besides offering the tastiest grape juice flavor this vape juice by Pop Clouds offers instant satisfaction. As it is prepared for immediate use, it requires a working vape kit only to satisfy your taste buds and the irresistible craving.
Apart from the Grape Vape Juice, Pop Clouds come with a variety of other flavor profiles that include Blue Razz, Cotton Fluff, and Watermelon. Know more about these delectable flavor profiles by visiting our website today!