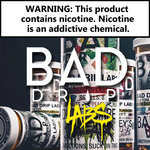 Seek exceptionally irresistible vape juice flavors? Want to try something new and unique? Then the vape juice flavors by Bad Drip Labs are your best bet! Bad Drip Labs has taken over the vaping industry with its unique and mouth-watering flavors that you cannot find anywhere else! In addition to the delectable flavors, Bad Drip Labs vape juices have an attention-grabbing aesthetic, packaging their signature flavors in capricious and colorful bottles featuring striking psychedelic artwork. The manufacturer delivers a wide variety of flavors that come in bottles that mimic prescription jars which turn these vape juices into conversation pieces.
All the vape juice flavors from Bad Drip Labs be it fruity, candy, dessert or anything else are made using food grade ingredients that are of the highest quality. Each flavoring extract is handpicked carefully to ensure that the taste is authentic, exceptional and unbeatable. Each batch is handcrafted for optimum vaping pleasure.
So are you ready get your mind blown with the unique and whimsical vape juice flavors of Bad Drip Labs? Then we at Ejuice Store bring you the following flavors from the house of Bad Drip Labs:
Don't Care Bear Vape Juice
Don't Care Bear vape juice by Bad Drip is the latest and hottest flavor to join the flavorful line up. Don't Care Bear vape juice is a fruity sweet gummy bear that bursts with fruity flavor. On the inhale you get a flavor of fruit trio that is balanced and filled of flavor. On the other hand the exhale offers a punch of gummy. Each 60ml bottle  of Don't Care Bear vape juice comes in a custom Bad Drip bottle and Bad face shammy.
Dead Lemon Vape Juice
The Dead Lemon vape juice by Bad Drip offers a lemony twist. This vape juice comes with a delicious lemon sensation that is speckled with a sour and sweet dust. This vape juice is ideal for the vapers seeking a strong flavor. On the inhale your taste buds will be greeted with a explode of fruity lemon flavor with a sweet sugary hint that balances the primary lemon flavor flawlessly. The exhale on the contrary offers you a rich blend of sweetness and sourness that ties up the complete profile smoothly. Relish a subtle and refreshing hit on the throat with this vape juice.
God Nectar Vape Juice
God Nectar vape juice by Bad Drip Labs feature a perfect blend of four ecstatic tropical fruits that delivers an extremely divine flavor. Justifying its name, God Nectar is truly a nectar of the God. During the inhale this first class vape juice flavor offers a sweet citrusy taste of orange and guava. During the exhale you experience a heavenly mix of passion fruit and mango which will make you fall in love with this delectable vape juice.
Bad Apple Vape Juice
Bad Apple vape juice by Bad Drip is the best vape juice flavor for a die-hard apple lover. This vape juice has the power to keep you rejuvenated throughout the day. The vape juice has a flavor of freshly plucked apple which makes it more enticing. On the inhale you may enjoy the flavor of a ripe sweet red apple and the exhale offers you the sweetness of special green apple, making the entire experience delightful for you.
Farley's Gnarly Sauce Vape Juice
Farley's Gnarly Sauce Vape Juice by Bad Drip Labs is a thorough blend of strawberries and kiwis with a smooth bubble gum finish  which makes it a flavorsome vape juice. Take delight in the twists of strawberries and kiwis into mouth-watering fruit nectar on the inhale and a strike of smooth bubble gum finish on the exhale.
At Ejuice Store you can find all these exclusive flavor profiles from the house of Bad Drip Labs at the best prices. So browse our collection today!