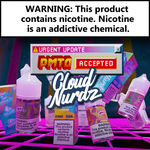 Do you want to get indulged in day dreaming while vaping? Then we at E Juice Store would definitely recommend you to go for the Cloud Nurdz e liquid flavors. In 2016 two vaping Nurdz got motivated to generate Cloud Nurdz, the lip-smacking line of sweet scrumptious vape juice flavors that will rule the industry. Want to explore the world of Cloud Nurdz with us? Let's dive into the flavorful world of Cloud Nurdz below:
Watermelon Berry Vape Juice
Cloud Nurdz brings you Watermelon Berry Vape Juice , a new luscious blend of delicious fruit flavors that complement one another fiercely. The Watermelon Berry Vape Juice is a remarkable creation that begins with sweet, refreshing watermelon, vigilantly combined with ripe berry and mountain-fresh strawberries. It results in a perfectly sweet, incredibly appetizing, and unambiguously flavorful vape juice.
Peach Blue Razz Vape Juice
Peach Blue Razz by Cloud Nurdz is a blend of blueberries and raspberries along with peach rings creating a delectable masterpiece. With a sweet blueberry taste and tartness from the raspberry that will cause your mouth to drool like a waterfall on the inhale and a mix of ripe peach and gummy ring candy on the exhale you get a perfect vaping experience.
Kiwi Melon Vape Juice
Kiwi Melon by Cloud Nurdz mixes fresh kiwi and ripe melon to create this amazing god like mix of tropical fruit juice that is sure to please. With each puff of Kiwi Melon, flood your mouth with aromatic fruit flavor. A rush of ripe kiwis will overpower your taste buds with authentic flavor. On the exhale succulent mix of melon flavors offering a refreshing end to this tropical vape juice.
Watermelon Apple Vape Juice
Watermelon Apple Vape Juice will offer you the feeling like you are wildly sucking on a piece of hard candy because the taste is so scrumptious that you want to have it all. On the exhale, you will receive a few extra hints of flavor that will make you urge for a second hit. Actually, you will be craving for more and more.
Strawberry Grape Vape Juice
Strawberry Grape vape juice will entice your taste buds and will make you fall in love with its delicious flavor. When it comes to Cloud Nurdz E Liquid collection, Strawberry Grape is a vape juice that will show what a good vaping experience feels like. Strawberry Grape vape juice is not the only vape juice in its collection that is willing to offer you an unbelievable cloud and flavor experience, but it will be the one you might not want to put down after a couple pulls.
There are several other flavors by Cloud Nurdz that you will love to try. To explore more about these flavorsome vape juices browse our website today!