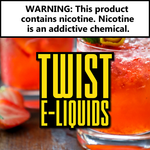 Do you love lemonade? Want to relish the lemonade flavor in your vaping experience? Then we at Ejuice Store, being a leader in vape industry for years now would suggest you to try out Lemon Twist e juice flavors once. We can assure you that these lemonade flavors won't disappoint you while satisfying your taste buds to the fullest.
Would you like to check out some of the top-rated flavors from the manufacturer? Then scroll down and get indulged in the ocean of lemonade flavors -
Sweet & Sour by Lemon Twist 120ml (2x60ml)
Sweet & Sour by Lemon Twist is a 120 ml (2x60ml) of sugary and tart candy delight that will excite your taste buds beyond your expectations. You will just fall in love with this vape juice that is incredibly delightful for a lemonade lover. Inhale a powerful dose of sour watermelon flavor and get your taste buds salivate instantly and exhale the sugary candy flavor that delivers pure happiness to your sweet tooth.
Wild Watermelon Lemonade by Lemon Twist
As the name suggests Wild Watermelon Lemonade by Lemon Twist is a wild ride of flavors that will invigorate the cool essence chilling down your spine on the first hit. This lemonade flavor has a classic base with tart, natural lemon flavor mashed together with ripe, juicy watermelon for a perfectly sweetened blend you won't forget anytime soon.
Grape Berry Mix by Lemon Twist is a divinely blended flavor that mixes the sweet taste of fresh off the vine grapes for creating an extraordinary e liquid that your taste buds will never forget. On the inhale experience a blended taste of Grape flavors that are steeped in freshly squeezed berry punch, to reinvent and twist the way you see the spectrum of flavor. Dive into the exciting world of berries that await you in Grape Berry Mix .
Berry Medley Lemonade by Lemon Twist
Berry Medley Lemonade by Lemon Twist is another most sought-after lemonade flavored e juice that presents a delectable mash up of freshly squeezed lemonade with a scoop of mixed berries has been hard-pressed into e juice form that is a madhouse of sweet and fruity flavors.
Pink Punch Lemonade by Lemon Twist is yet another delightful introduction from the manufacturer that involves handpicked lemons squeezed until all of their nectar is out. This tart lemon nectar is then combined with a sweet, strawberry syrup to make a juicy drink that will quench your cravings. It is a perfectly balanced lemonade with sweet and sour flavor that offers an authentic fruit essence.
Watermelon Madness by Lemon Twist
Watermelon Madness by Lemon Twist is a tantalizing watermelon lemonade blend that offers a juicy taste of sweet watermelon and a burst of lemonade flavor creating a unique flavor that is a pure bliss and perfect for summertime.
Honeydew Melon Chew by Lemon Twist
Honeydew Melon Chew by Lemon Twist is the pure essence of sweet, ripe, and exceptionally juicy honeydew melons that melts into your mouth creating a delicious e juice. Its flavor is crisp, and refreshing.
Besides these there are several other flavors from the house of Lemon Twist  that will make you fall in love with the delectable flavors. If you wish to discover other flavors with us then visit our website today!