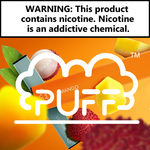 After Federal banned flavored vape pods, disposable pods have became the best and convenient ways to begin vaping especially in 2020. Disposable pods are designed similar to that of cigarettes but without the tar, smoke, and ash. These pods have no replaceable parts, buttons, rechargeable batteries, or complicated system to navigate. You can use the device simply by removing it from the package and begin puffing. Once the battery dies, throw them in the trash.
Vapers who are familiar with disposable pods must have heard about Puff Bar. We at E Juice Store being a premier vape store carry a wide collection of vape products that include vape juices, disposable pods and more. Our inventory also carries the different Puff Bar flavorful disposable pods. So, what is Puff Bar and why is it a hype in 2020? Let's find out together -
What is a Puff Bar?
Puff Bar is a small and compact disposable pod that can fit in a pocket and resembles a USB flash drive. The device heats up a cartridge that contains e liquid for creating vapor. All of these pod devices are pre-charged and pre-filled. Once the vapor runs out, you will need to throw it out as it cannot be recharged or refilled.
How much nicotine does a Puff Bar contains?
Each Puff Bar disposable pod makes use of nicotine salts with a formula that allows much higher levels and efficient nicotine delivery with less irritation as compared to the previous e-cig generations. The strength of nicotine can be as high as 5%.
What are the different flavors available from the house of Puff Bar?
Puff  Bar disposable pods come in some of the most delectable flavors. We at E Juice Store carry the following four best-selling flavors in our inventory:
Mango Disposable Pod by Puff Bar
Unique formulation makes Mango Disposable Pod by Puff Bar a rich and sweet delight for vapers craving for juicy mangoes.
A fruity and refreshing treat by Puff Bar, Lush Ice provides a nice watermelon flavor with cool menthol invigorating your taste buds instantly.
Strawberry Disposable Pod by Puff Bar
A perfect blend of juicy and sweet fresh strawberries, Strawberry Disposable Pod by Puff Bar will burst your mouth with authentic strawberry taste.
Amalgamation of sweet and refreshing melons with bold and even more refreshing sensation of cool menthol.
So explore the Puff  Bar world with us today! Enjoy vaping in the most convenient way - go the disposable pod way!