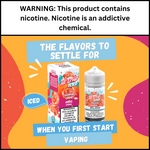 If you have decided to start vaping, you need to buy a starter kit that you can refill. This is required so that you can fill it with your desired e-liquid having your favored flavor. Until this step, it is pretty easy; however, when you settle to buy vape juice online, you will become puzzled by the variety of flavors possible to buy. That is the reason we have detailed a few flavors that are ideal to buy when you start vaping. Like, if you buy Guava Lava by Hi-Drip in 100ml, the vape juice will have the primary flavor of guava and strawberry.
Let us know about a few other flavor varieties you can buy for a pleasant vaping experience.
Tobacco e-fluid 
If you are at the initial step of making a move from smoking to vaping, it is best to buy tobacco e-fluid. Vaping such fluid will give you an experience of smoking, however, without having the evil influence of tobacco. The nutty and rich flavor of the e-juice will stimulate your pallet similarly to actual tobacco.
E-juice having menthol 
If you use e-liquid, you will not be using actual tobacco; however, when you use vape juice with menthol, you will be using the same menthol used to flavor cigarettes. If you love menthol, you will find that using such vape juice will make your vaping experience more pleasant. In addition, the cooling sensation of menthol will make you love vaping and help you switch from smoking to vaping.
Fruit vape juice 
You will notice there are various fruit flavors of vape juice that you can buy. For example, if you buy Guava Lava by Hi-Drip in 100ml, you can enjoy vaping vape juice with the flavor of guava and strawberry. This is because manufacturers of vape juices use the exact nature of flavoring ingredients that food manufacturers use to flavor the foods. 
Sweets e-fluid 
As manufacturers of e-liquid use the same flavor ingredients as sweet manufacturers, you can experience tasting that exact sweet when you vape using a vape juice with that flavor.
The primary reason to make flavored vape juice possible to buy is to make your vaping experience as pleasant as possible. So, when you try to buy a vape juice, purchase one with the flavor you love.
We at E Juice Store make it possible to have various vape juices with different flavors. So, when you are at our online store, you will not be disappointed that you cannot have vape juice having your loved flavor. We also try our best to make it possible to have such high-quality vape juices at a competitive price.