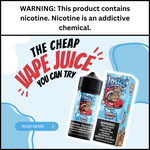 A few words like cheap e-fluid make you sit straight and notice. You will try to understand which vape juice one is saying about. We all love to have bargains. However, that should not be at the cost of our health or the experience we are trying to have. We at E Juice Store try to offer our clients e-fluid that are of the best quality at a competitive price. It is not that you need to avoid buying e-liquid, which are lower in price than others. However, you need to ensure you know the cause of the lower price.
We discuss here some factors that you need to keep in mind when you desire to buy cheap e-liquids. 
Safety standards
Manufacturers need to maintain a certain safety standard while manufacturing e-fluids. To make e-liquid cheap, manufacturers need to cut certain corners. It would be best if you noticed that their manner of cutting corners would not cause health issues. The primary ingredients in a commercially manufactured e-fluid are propylene glycol (PG), vegetable glycerine (VG), nicotine, and flavorings. So, there are few corners to cut. We ensure that the e-liquids we sell do not violate safety standards. Like, if you buy Crunch Toast by Loud in 100 ml from us, the rate will be affordable. However, we make sure that the manufacturer maintains the safety standard. 
Cheap due to high production
Reputed brands try to make their e-fluids cheaper by increasing their production rate. As the market demand for their products is high, they can take the risk of higher production. So, when you desire to buy cheap e-liquid, you need to buy one from reputed manufacturers. They will never compromise on quality or safety standards to make their products more affordable. 
Loss of flavor 
If you settle for cheap variety, you need to remember that you will not be able to purchase flavors of your liking. It is costly to make an e-liquid have some flavors. So, manufacturers avoid manufacturing certain flavors to offer a cheaper variety. So, make a mindset that not all flavors will be available in the more affordable variety.
Think about your device
It is also essential to consider your vaping device when you intend to buy a cheaper variety of e-liquid. If your vaping device is not up to the mark, the cheaper variety will taste horrible, and you will lose the patience, of switching from smoking to vaping.
So, if you follow our advice, it is wise to buy affordable vape juices rather than the cheaper variety, as that will help you to have a pleasant vaping experience and reach the goal of stopping smoking.