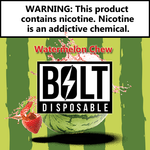 Are you seeking for an easy vaping experience? if yes, then you should consider buying a disposable pod by BOLT. This device requires absolutely no maintenance. The vape pen comes with 1.3ml e-liquid in refreshing fruity flavors like watermelon chew, mango ice, strawberry peach and orange pop. The BOLT Disposable Pod offers smooth mouth to lung draw that makes the device stand out from the rest.
Every disposable vape kit gives an estimated 300 puffs or until the 280mAh internal battery runs out. Once this is done, you have to throw it away and buy the new one. With the small and compact design, the easy ti slip disposable pod fits in your pocket or bag perfectly.
In addition to, you don't need to worry about filling or charging the vape kit. Simply open up a BOLT disposable pod and you're ready to go. For the best possible vaping experiences, there's simply no other than BOLT Disposable Pod by Shijin Vapor.
This is the top-rated disposable kit that comes with a zero nicotine strength. As discussed above, the small and compact disposables by BOLT are available in a 1.3ml capacity tank and in a nicotine strength of 0%, 2% and 5%. These nicotine strengths are available in every vapor by BOLT.
Each disposable device comprises of around 350 puffs and is available with a fully-charged battery so that you can start vaping as soon as you receive the pack. Even, you don't need to charge the device for vaping. You just open the pack and start vaping right away.
However, the BOLT disposables are capable of accelerating the transition from the combustible cigarettes. It's the first disposable vape system with a nicotine step down option. Each BOLT disposable comprises of a device in every package and has the ability to deliver smooth mouth to lung draw. All of their devices are integrated with all of unique features to provide a hassle-free vaping experience to their users.
Trying Out Watermelon Chew Disposable Pod by BOLT –
Watermelon Chew Disposable Pod by BOLT is an outrageous vape device as it gets. Taste this tantalizing flavor – the watermelong chewy candy offering satisfying hits. Moreover, watermelon is one of the most popular flavors in the vape juice industry.
You can consider enjoy this flavored vape juice all day without concerning about unwanted calories. This watermelon chew flavored ejuice is an ideal alternative to opt for, especially if you want to make the transition from traditional cigarettes.
This device doesn't require any maintenance and comes fully-charged. The watermelon flavor vape juice is ready to use. You should dispose it simply when it gets empty. This succulent flavor bursts with the goodness of fruity candy flavors.
Out of all of the juicy fruit flavors available, nothing gives refreshing sensation to palatte and satisfaction to your sweet tooth like Watermelon Chew Disposable Pod by BOLT. When you apply a coat of tasty watermelon flavor in candy sugar, you will get a taste that will satisfy your senses for sure. Consider purchasing Watermelon Chew Disposable Pod by BOLT from Ejuice Store today and get maximum savings and discounts.