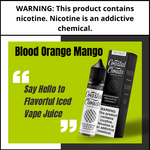 Do your vape taste buds need something extra to excite your senses? Then, it's time to embrace the menthol goodness of Iced Blood Orange Mango vape juice by Coastal Clouds. The Coastal Clouds vape juice is most certainly the solution for your vaping needs.
Coastal Clouds is a premium vape juice brand based in Irvine, California. The vape brand presents an exclusive selection of flavors ranging from sweet and glorious fruits to the most extraordinary menthol flavors. All the vape juice blends leave you amazed by the extensive selection of tastes. 
The quality of the flavors is simply unmatched, boasting only the finest standard ingredients to ensure optimal satisfaction from the beginning to the end. With the great list of the most remarkable vape juice blends, Coastal Clouds vape juices continue to stand out from the rest and become the favorite vape brand for everyone.
Add the refreshing and cooling vape blend to your vape juice arsenal and let it give you that sensation you have been craving for all the while. If you have enough tartness, bitterness, and sweetness, now is the time to get something genuinely exceptional that can save your taste buds from flavor deprivation, i.e., the menthol flavor. 
You might be wondering about the vape taste of Iced Blood Orange Mango vape juice. The Coastal Clouds vape juice gives you a unique flavor that will thoroughly please you from the beginning to the end. 
The tinged and rich gush of blood orange flavor will get your taste buds in touch with mouthwatering mango flavors, while the bitter lime notes increase the flavor already given on the inhale. When you exhale, you will feel the menthol sensation that will provide you with the satisfying throat hit you have longed for. It carries the remaining hint of fruit before the vapor cloud leaves your mouth. 
The Iced Blood Orange Mango Vape Juice by Coastal Clouds is an exceptionally crafted vape juice blend that combines exotic blood orange, sweet mango, a splash of lime flavor, and a bone-chilling sensation of menthol. The excellent vape juice leaves you satisfied thoroughly from puff to puff. The Iced Blood Orange Mango vape juice is available in a 60mL bottle and 0mg, 3mg, and 6mg nicotine strengths. 
When buying Iced Blood Orange Mango Vape Juice by Coastal Clouds, you should look no further than Ejuice Store – a one-stop destination for vaping needs. Apart from Coastal Clouds vape juice blends, we provided top-branded vape juice flavors and accessories to create a wonderful all-day vaping experience. So browse your favorite vape juice flavor and add it to your vape arsenal to enjoy it again and again.