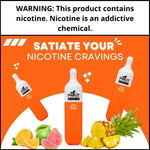 If your first smoke doesn't go so well, don't worry. The truth is, most people have a hard time mastering their first vape. Vaping is different from smoking cigarettes and requires a completely different style of inhaling than cigarettes do. If you try a vape pen for the first time and don't like it, take heart – it's probably not your fault. Different Vape pens are made for different styles of smoking – some will be more appealing to smokers than others.
How to Use Your Disposable Vape Pod at a Cigarette-Like Pace:
If you're going to use a disposable vape pen, it's important to remember that e-cigarettes don't have the same self-limiting properties as tobacco cigarettes. When you light up a cigarette, you're committing yourself to smoking it all the way down unless you happen to be one of those people who doesn't mind the taste of re-lit tobacco. You're not just going to take a puff without thinking about it.
When you use a disposable e-cigarette, you can get it out and start enjoying the experience straight away. You won't have to wait for it to charge or refill the tank. However, because there is no limit to your usage, you might find yourself puffing mindlessly on your vape pen without really thinking about what you're doing. To avoid this situation, take a few puffs and then put the pen down for a while before vaping again when your nicotine cravings return.
When Is Your Disposable Vape Pod Finished?
If you are having a problem with your vape pen and it stops producing vapour or has no flavour then you should discard the e-cigarette. If you feel like you have not gotten enough life out of your e-cig then it could be that you are vaping too rapidly and have exhausted the supply of e-liquid close to the atomizer coil. Wait a while for the e-liquid to redistribute itself throughout the cartridge, and then try vaping again. If you're still not getting any flavour, you may have used all of the e-liquid in the cartridge.
Order Guava Pineapple Orange Disposable Pod (3500 Puffs) by Phrut Exotix:
Find your new favorite flavor with Guava Pineapple Orange Disposable Pod. Available in 10 exotic flavors, these ejuice pods are ready to be used right out of the box. Each pod was designed by the creators of PHRÜT's ejuice line and gives you that same experience you've come to love from them! Sold as a pack of 10 disposable vape cartridges, each pod is ready for use and has an approx. 3500 puffs.