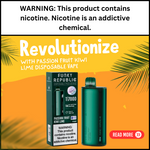 Experience the ultimate vaping pleasure with Funky Republic Ti7000, the revolutionary disposable vape by EBDESIGN (formerly ELFBAR). This innovative device combines cutting-edge technology with a tantalizing flavor blend of tropical passion fruit, sweet kiwi, and tangy lime. With its impressive features, extended liquid capacity, and long-lasting battery, the Passion Fruit Kiwi Lime Disposable Vape (7000 Puffs) by Funky Republic Ti7000 is set to redefine your vaping experience. Let's dive into the details and explore why this disposable vape is a must-have for enthusiasts.
Unleash the Funk: Irresistible Flavor Combination
Get ready to embark on a flavor adventure as your taste buds experience the exhilarating blend of tropical passion fruit, luscious kiwi, and zesty lime. Each puff of the Funky Republic Ti7000 delivers a symphony of flavors that will leave you jumping for joy and craving for more. Indulge in the exotic and refreshing notes of this flavor blend, perfectly crafted to satisfy your vaping desires.
Innovative Display and Enhanced User Experience
The Funky Republic Ti7000 stands out from the crowd with its digital display, a first-of-its-kind feature in disposable vapes. The LED display screen provides real-time information, including the remaining liquid level and battery life, ensuring you never miss a beat. Stay in control and enjoy a more interactive vaping experience with this advanced display technology.
Ample Liquid Capacity and QUAQ Tech Mesh Coil
Forget about frequent refills. The Funky Republic Ti7000 boasts a generous 17ml reservoir filled with EBDESIGN premium eliquid, guaranteeing an extended vaping session without compromising on flavor or performance. The device is equipped with the QUAQ Tech mesh coil, renowned for its exceptional vapor production and smooth, flavorful draws. Enjoy the full-bodied satisfaction of every puff.
Convenient Rechargeable Battery and Fast Charging
Say goodbye to disposable vapes that leave you empty-handed when the battery dies. The Ti7000 features a built-in 600mAh battery that can be easily recharged using the fast-charging USB Type-C input. Stay powered up and ready for uninterrupted vaping pleasure whenever you desire.
Refined Luxury Case and Portability
The Funky Republic Ti7000 comes in a refined luxury case that adds a touch of sophistication to your vaping experience. With its streamlined and portable design, you can effortlessly take it with you wherever you venture, guaranteeing the ability to savor your preferred flavors while on the go.
With its enticing flavor profile, advanced features, and extended vaping capacity, Passion Fruit Kiwi Lime Disposable Vape (7000 Puffs) by Funky Republic Ti7000 is a game-changer in the world of disposable vapes. To place your order, feel free to visit ejuicestore.com.