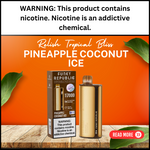 Welcome to the world of vaping, where flavor sensations await at every puff. Here we'll explore the Pineapple Coconut Ice Disposable Vape (7000 Puffs) by Funky Republic Ti7000. With its exceptional features and tantalizing flavor profile, this vape device promises a tropical getaway for your taste buds. Let's delve into the details and discover why this device is worth considering for an unforgettable vaping experience.
A Long-lasting Companion:
The Pineapple Coconut Ice Disposable Vape by Funky Republic Ti7000 is designed to accompany you on extended vaping sessions. With approximately 7000 puffs per device, you can indulge in flavorful clouds without the worry of running out. It ensures a long-lasting experience, perfect for those who enjoy extended vaping sessions or are always on the go.
Rechargeable Convenience:
Say goodbye to disposable devices that contribute to waste. The Pineapple Coconut Ice Disposable Vape is equipped with a rechargeable battery that can be easily powered up using the USB Type-C charging port. This feature allows you to enjoy the flavors without the need for constant device replacement, saving you money and reducing environmental impact.
QUAQ Tech Mesh Coil:
To enhance your vaping experience, the Pineapple Coconut Ice Disposable Vape incorporates QUAQ Tech mesh coil technology. This advanced coil system ensures smooth and consistent vapor production, delivering rich and satisfying clouds with every inhale. Enjoy the perfect balance of flavor and vapor, allowing you to immerse yourself in the tropical fusion of pineapple, coconut, and a refreshing hint of menthol.
LED Display Screen:
Keep track of your vaping journey with the LED display screen. This user-friendly feature provides essential information, such as battery life and puff count, allowing you to monitor your usage and plan accordingly. Stay in control and have a clear view of the device's status at all times.
Generous Eliquid Capacity:
With a substantial 17ml eliquid capacity, the Pineapple Coconut Ice Disposable Vape ensures you won't be left longing for more. This generous capacity minimizes the need for frequent refills, providing a hassle-free vaping experience. Immerse yourself in the tantalizing flavors of pineapple and coconut as they swirl together, creating a tropical symphony on your palate.
Nicotine Strength and VG/PG Ratio:
The Pineapple Coconut Ice Disposable Vape offers a nicotine strength of 5% (50mg), catering to those who prefer a higher concentration. It strikes a perfect balance between satisfying nicotine cravings and delivering a smooth vaping experience.
Conclusion:
If you're in search of a disposable vape device that provides ease, exceptional flavor, and an enduring vaping experience, then the ideal choice is the Pineapple Coconut Ice Disposable Vape (7000 Puffs) from Funky Republic Ti7000. Immerse yourself in luxurious vapor clouds and let each puff whisk you away to a tropical paradise by the beach.