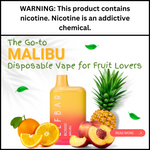 Fruit-flavored vape juices are a popular choice for many vapers, and for a good reason: they are delicious! But why do people love them so much?
Here are four reasons fruit-flavored vape juices are so popular:
They taste so good! Vaping is all about having fun and enjoying the flavors that you love. If you don't like the flavor of your juice or you can't taste it, then what's the point? Fruit-flavored vape juices are sweet, tart, and satisfying. You will really get to enjoy your vape experience with these flavors.

They're great for mixing with other flavors. If you want to make your own custom blend of flavors, then fruit flavors are a must-have ingredient. You can mix them with sour fruits like lemon or lime to create a tangy flavour or pair them with sweeter fruits like banana or strawberry to create an indulgent dessert-like blend. The possibilities are endless!

Fruit flavors can be used for any occasion—whether it's an outdoor party or just an evening at home alone watching Netflix!

Fruit flavors are a great way to get a break from tobacco-flavored e-liquids.
Check out Malibu Disposable Vape (5000 Puffs) by Elf Bar BC5000:
Fruit lovers, we have got something for you. From the beach to the pool, Malibu disposable vape will be your go-to fruit lover's treat. Malibu combines juicy orange, pineapple, and peachy icy flavors to create a sweet and sour vape that is perfect for the beach or by the pool. The menthol flavor gives this e-liquid a light freshness that will leave you feeling cool and refreshed. 
The inhale of Malibu has notes of juicy orange that are rounded off with pineapples. On the exhale, you will taste sugary peaches with a hint of icy menthol. And since it is rechargeable, you won't have to worry about running out of power. The contrasting colors make it fun to use—and even more fun to show off! This disposable vape is available in 50mg nicotine strength. 
Order Malibu Disposable Vape from ejuicestore.com to enjoy authentic products and significant savings.