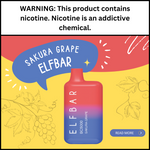 If you're new to vaping, you might be wondering what the best way to get started is. First of all, don't worry: there's no wrong way!
The good news is that with so many different ways to vape, there's something for everyone. For example, if you're new to vaping and are looking for something easy, try using a disposable pod. Once you've tried it out and see how much fun vaping can be, you'll want to upgrade to a rechargeable device with refillable pods or cartridges.
The first thing you should know about disposables is that they come in different flavors and nicotine strengths. You can find them at online stores like ejuicestore.com. A disposable pod contains everything you need: the device itself and the juice inside it. This makes them especially easy to use if you're just getting into vaping because they're already pre-filled and ready to go!
With a disposable pod, all you have to do is swap out the cartridge when it runs out. You don't need any extra parts or accessories—it's like having a new vape every time! And because they're so easy to use, they're great for beginners who haven't figured out their preferences yet.
Buy Sakura Grape Disposable Pod (5000 Puffs) by Elf Bar BC5000:
If you're new to vaping and looking for something that's simple and straightforward, check out the Sakura Grape Disposable Pod (5000 Puffs) by Elf Bar BC5000. It is a rechargeable device that uses dual coils to provide you with an amazing vaping experience. It has a 13ml capacity and is available in 5% nicotine strength. This device can last up to 5000 puffs, depending on how much you use it per day.
Enjoy the delicately sweet flavor of Sakura Grape with the tartness of freshly squeezed grape juice. This fruity blend is a refreshing change of pace from our regular juices. With contrasting colors, this handheld vape pen provides enjoyment and personality with every puff! To buy Sakura Grape Disposable Pod online at the best price, look no further than ejuicestore.com.