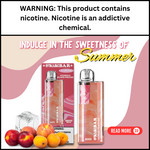 Picture this: a hot summer day, the sun beating down, and you're craving the refreshing taste of sweet, juicy peaches. But not just any peaches – we're talking about the delicious Georgia Peach Freeze, a flavor that'll transport you to your grandma's house, where the peaches are always fresh and chilling on ice. In this blog post, we're going to explore the delightful world of Sugar Bar SB8000's Georgia Peach Freeze Disposable Vape, offering an astounding 8000 puffs of pure peachy pleasure.
The Art of Flavor Creation
Georgia Peach Freeze Disposable Vape (8000 Puffs) by Sugar Bar SB8000 doesn't just offer your run-of-the-mill vape flavors; they've mastered the art of flavor creation. Each puff from their disposable vape pens is a journey for your taste buds, and Georgia Peach Freeze is no exception. This flavor embodies the essence of summer, capturing the natural sweetness and tartness of Georgia peaches with a cooling twist of ice. It's like savoring a slice of peach pie straight from grandma's kitchen.
A Feast for the Eyes
What sets Sugar Bar SB8000 apart from the competition is not just its delectable flavors but also its eye-catching design. This disposable vapes come in a vibrant color palette that corresponds to their unique flavors. The Georgia Peach Freeze flavor is adorned in shades that echo the lush colors of ripe peaches, making it a visual treat as well. It's not just a vaping device; it's a fashion statement.
8000 Puffs of Bliss
One of the most remarkable features of Sugar Bar SB8000's disposable vape is its longevity. With a whopping 8000 puffs, this device will keep you satisfied for an extended period. Whether you're out for a day of adventure or simply relaxing at home, you won't have to worry about running out of your favorite flavor.
Perfect for All Occasions
The Georgia Peach Freeze Disposable Vape by Sugar Bar SB8000 is not just a summertime delight; it's perfect for all occasions. Its refreshing taste can transport you to your happy place, whether you're lounging by the pool, enjoying a summer barbecue, or just need a moment of fruity bliss during a busy day.
Conclusion
In the world of disposable vapes, the Georgia Peach Freeze by Sugar Bar SB8000 stands out as a true gem. With its incredible flavor profile, eye-catching design, and an impressive 8000 puffs, it's a must-try for any vaping enthusiast. So, why wait? Treat your taste buds to a trip down memory lane with the taste of fresh peaches on ice at your grandma's house – all in the palm of your hand. Georgia Peach Freeze is more than just a flavor; it's a sensory adventure you won't want to miss.