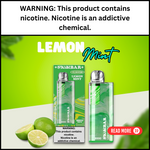 Innovation is taking the front seat in the ever-changing vaping world. One such product that has been garnering popularity among vapers is the Lemon Mint Disposable Vape (8000 Puffs) by Sugar Bar SB8000.
The Sugar Bar disposable vape combines the tangy zest of lemon with the cool refreshing taste of mint. Hence, you can expect to enjoy a delightful and hassle-free experience with an impressive 8000 puffs. Please check out this blog, to know what sets this disposable vape apart and why it's garnering attention in the vaping community:
A Flavorful Fusion of Lemon and Mint
The Lemon Mint Disposable Vape comes with the harmonious fusion of two unique flavors i.e. lemon and mint. The citrusy burst of lemon dances on the taste buds, while offering a unique sense of invigoration and refreshment.
On the other hand, mint adds a cooling layer to the blend while offering a subtle icy taste that perfectly complements the tangy lemon delight. The combination of these two flavors creates a symphony of flavorful delights that feels soothing and revitalizing. That's why this disposable vape flavor makes an ideal choice for vapers looking for a unique and delightful blend.
Longevity and Convenience
The Sugar Bar SB8000 disposable vape is known for its impressive longevity. Offering approximately 8,000 puffs per device, the vapers can enjoy an extended vaping experience by replacing or refilling often. This longevity makes it an excellent alternative for those who are always on the go or prefer a hassle-free vaping experience without any hassle of maintenance or charging.
Sleek and Portable Design
The Lemon Mint Disposable Vape features a sleek and modern design that will fit the palm of your hand perfectly. With a slim design and lightweight construction, it's easy to carry in your pocket or bag. That means you can enjoy your favorite flavors wherever you go. Features the draw-activated firing mechanism, the disposable vape device eliminates the requirement for buttons, offering a user-friendly experience for both beginners and experienced vapers.
Personalized Experience
Understanding that vapers have varying preferences, the Sugar Bar SB8000 is available in multiple nicotine-strength options. Whether you're a seasoned vaper looking for a higher nicotine concentration or thinking to minimize your nicotine intake, this disposable vape will get you covered. You can customize the nicotine strength to personalize your vaping experience and match your individual needs and preferences.
Bottom Line -
When it comes to vaping the flavorful vape blend of Lemon Mint Disposable Vape (8000 Puffs) by Sugar Bar SB8000, you should look no further than Ejuice Store. Combining the fruity delights of lemon and mint, an impressive puff count of over 8000, and a user-friendly design, this disposable vape captures the attention of vaping enthusiasts. With the continuously evolving vaping landscape, the Sugar Bar SB8000 always strives to deliver something unique and combines creativity and quality for its vape juice products.