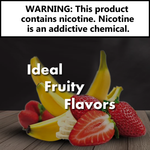 Are you new to vaping? Feeling overwhelmed with the variety of vape flavor profiles available to choose from? Then we at E Juice Store suggest you to try mild yet delicious fruit flavors especially banana and strawberry flavors. Being in the vaping industry for years, we have understood a lot about vapers, vape juices and vape products. And hence we have brought you some of the best banana and strawberry mix vape juice flavors by top manufacturers for you.
So check out some of the best and high quality vape juices of strawberry and banana combination below and choose the one that entices you the most.
Tokyo Strawberry Banana by Tokyo Premium 60ml
Tokyo Strawberry Banana by Tokyo Premium is a 60ml of delightful treat that brings sweetness of ripe and refreshing strawberries together with light notes of delicious bananas. This amalgamation crafts a classically paired e juice. It is a premium e juice that comes with a distinctive flavor profile that combines two popular fruits. Tokyo Premium has crafted this e juice with attention to detail. The other flavors from the house of Tokyo Premium are also ideal for first time vapers like you. The other delectable flavors include Tokyo Matcha Cake and Tokyo Chocolate Banana.
Straw Nanners by Vape 100 Ripe Collection
Another banana and strawberry mash up e juice is Straw Nanners by Vape 100 Ripe Collection. This e juice is a perfectly crafted and balanced option that brings sweet ripe refreshing strawberries together with splashes of banana flavor creating a classic pair of e juice to try. If you love strawberry and banana then you will definitely fall in love with this pair!
Donkey Kahn by Humble Juice Co
Donkey Kahn by Humble Juice Co is a great banana and strawberry concoction that combines the flavors of sweet luscious bananas, strawberry and dragon fruit. This e juice will make you get indulged in the world of fruity flavors that provide a revolving experience on the inhale and exhale. So take delight in this classy fruity concoction today and make your vaping experience memorable.
Gambino by Nasty x Kilo is a delightful resultant of the collaborative union between Nasty Juice and Kilo E-Liquids. This combination creates this signature flavor that is a sensational infusion of fresh strawberries, tangy oranges, and sweet bananas for the ultimate fruity creation. So take a dive into this ultimate fruity delight to enjoy vaping to the fullest.
Ice Donkey Kahn by Humble Ice Juice Co
Ice Donkey Kahn by Humble Ice Juice Co is a icy concoction of bananas and strawberries with dragon fruits and cool menthol. This icy menthol fruit blend is ideal for summer days. It transforms the hottest summer days feel like the middle of winter with its mixture of refreshing fruits. Ripe sweet strawberries are combined in with tropical bananas, juicy, exotic dragon fruit and a kick of freezing cold menthol for a taste you will obsess over.
Explore a variety of other fruity flavors that are ideal for first time vapers like you with us at Ejuice Store. We carry a wide collection of fruity e juice flavors in our inventory.