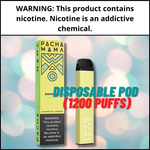 The world is changing and advancing at a fast pace and hence, technology. Then, how can the vape industry stay back? Today, disposable pods have become tremendously popular among vapers of all kinds, especially the younger generation as they find it cool! Also, the people who are always on the go prefer these portable devices to satisfy their vaping needs when needed. But what disposable vape is all about? We at E Juice Store being one of the premier online vape juice and products stores, always want people to know what they are using or wanting to use. Hence we have brought you a brief information about disposable vape pods below, have a look, before you take your next hit!
What is a Disposable Vape?
A disposable vape is a new way to enjoy vaping even when on the go! These devices come in sleek designs that are small in size and look classy. However, these devices are non-rechargeable and come pre-filled with e-liquid of different flavors. Each disposable vape device is a single-use product i.e. once the e-liquid runs out, the device cannot be reused and needs to be discarded.
How do these devices work?
These devices are extremely simple to use and contain no complex methods, switch or button to press! You simply need to inhale the e-liquid vapor just like you inhale a cigarette. Neither it needs to get charged nor the coil needs to be replaced. Typically, a disposable vape can last about 500 to 600 puffs. 
Disposable vape pods are ideal for whom?
Disposable vape pods are ideal for the newbie vapers who want to quit smoking cigarettes and switch to vaping. Also, these devices are great for those who wish to keep a spare vape handy when their refillable vape kit runs out. 
Now that you have known a bit about disposable vape pods, let us take a look at some of the delicious icy flavors that you can try from the house of Pachamama, a premier vaping products manufacturer. Why icy flavors! Because we want you to make your taste buds feel the chill and left fresh.
You may also ask Why Pachamama? We at E Juice Store carry vape products by top rated brands but Pachamama is a bit different! Pachamama vape pod is a revolutionary all-in-one disposable pod device specifically designed to be a rewarding alternative to cigarettes. It is an exceptional solution for those seeking to start living a smoke-free life. Also while other vape pods offer 500-600 puffs in general, Pachamama pods offer 1200 puffs! Besides that its icy flavors are great for newbie vapers to give a kick start to their vaping journey. Following are the top icy-fruity flavors by Pachamama to count on!
Want to explore other brands and flavors of disposable vape pods with us? Visit our website today.