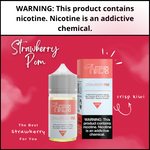 Do you love fruits, especially strawberries, Kiwi, and Pomegranate? If you do and like to have the flavors of these fruits in the vape smoke and satisfy your taste buds, it is ideal to buy Brain Freeze Vape Juice by Naked 100 Salt in 30ml from us at E Juice Store. The presence of menthol in the vape juice is an additional benefit. The perfect combination of sugary strawberries, slight tartness of Kiwi, and exotic ruby red pomegranates allows you to have a mouth-quenching feeling while vaping.
Brain Freeze Vape Juice by Naked 100 Salt is a distinct expansion of Naked 100 Collection catering toward a nicotine-salt-based experience with higher nicotine hits that can be managed by a lower-wattage and pod-based system. We endorse this liquid to be used in pod-based, closed systems devices, and ultra-low-output atomizers or mods. Every salt-based nicotine e-juice contains significantly higher levels of nicotine per milliliter.
The uniqueness of Brain Freeze Vape Juices 
When you notice vape juice named Brain Freeze it is common to assume that it has a menthol flavor. However, you are wrong when you consider Brain Freeze Vape Juice by Naked 100 Salt in 30ml. There is more to this juice. It has a sweet and sour blend of ripe strawberries, crisp kiwi, and a sweet, red pomegranate flavor. It is a one-of-a-kind flavor made by Brain Freeze and if you love menthol flavor with a cocktail of fruity flavor it is wise to buy one bottle from us. It has a fresh and stimulating flavor. This is just the nature of vape juice to buy when you have a vaper's tongue or you are shifting between two strong flavors.
The flavor intensity is medium and the vape juice tastes like a cold fruit cocktail. The menthol flavor is just perfect to make your vaping experience satisfying. When you vape using this e-juice as you inhale you will have the taste of strawberry and light kiwi flavor. You can experience the pomegranate flavor when you exhale. It is for sure you will have a nice aftertaste and this is a perfect vape during summer.  
If you buy a bottle of this vape juice, let it steep for one or two weeks. This will allow all the flavorings and other ingredients to mix perfectly and allow you to have the true taste.
It is possible to have this vape juice in varying vape Nic salt concentration levels. You can have it in 35mg and 60mg nicotine levels. It is impossible to have a strong throat hit using this vape juice. As the manufacture of all Naked 100 vape juices happens using top-quality nicotine there is no chance of having harshness in your throat when you vape using this e-liquid.
So, if you have decided to buy Brain Freeze Vape Juice by Naked 100 Salt in 30ml, let us at E Juice Store know. We ensure you get the best product at an affordable rate from us.