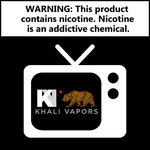 At E Juice Store our mission is making the best vape juice flavors to vapers of all kind, be it a newbie vaper or an experienced vaping enthusiast. While scrolling through several flavorsome options and manufacturers, we came across Khali Vapors, who are known for their attention to detail and commitment to perfection. So what is Khali Vapors all about? How it began and why it is so special? Let's find out below:
Founded by Patrick Mulcahy And Matthew Halvorson in Long Beach, California in the late 2013, Khali Vapors is one of the leading vape manufacturers that create irresistible flavors. The manufacturer spent more than 6 months for developing its first three flavors before launching the brand in the Spring of 2014. Besides their determined efforts in crafting perfect flavors the team focused on creating each one ideal for all day vaping i.e. neither too mild nor too strong! All of their vape juice flavors are perfectly balanced and inspired by the remarkable locations and refreshing flavors of the eternal summer of Southern California.
Khali Vapors have a specialization in manufacturing premium e-liquids and they use only the California-based suppliers for ensuring the quality of their juices is of the highest standards. The company takes pride in their e juice range that is limited to just four flavors as they focus more on perfecting each flavor rather that producing dozens of flavors that aren't perfectly balanced. Each of the four flavors they offer feature a mix of Vegetable Glycerin (VG) and Propylene Glycol (PG) but each of the vape juice comprises of majority of VG (60%) and hence the e liquids are thick and flavorsome.
Khali Vapors Vape Juice Flavours We Carry at E Juice Store
Khali Vapors e-juices are fruity delights, but that are different and unique from the other ordinary fruit flavors. With Khali Vapors e juice flavors you will get taste of multiple layers of different flavor mixtures both on the inhale and the exhale. Let us have a look at the different flavors from the house of Khali Vapors below:
Devil's Punchbowl vape juice by Khali Vapors offers a benevolent bite of exotic Asian guava layered between the delicate notes of peach and hence creates an inspiring summer vape. It is a satisfying tropical fruit vape juice which you will fall in love in the first hit.
Devil's Punchbowl ICE Vape Juice By Khali Vapors is the icy version of Devil's Punchbowl vape juice. This vape juice is an invigorating vape mixture that amalgamates exotic Asian guava with sweet juicy peaches along with a fresh puff of menthol. This tropical fruity delight bursts with tart flavors that will delight your palate and produce rich vapor clouds giving you a great vape experience.
The other flavors from the house of Khali Vapors include Sunset BLVD, The Fairmont and Valley Girl.
To enjoy the delectable tropical fruity flavors i.e. Devil's Punchbowl ICE vape juice and Devil's Punchbowl, browse our website and place an order today!